EVIS X1™ GIF-1100 Gastrointestinal Videoscope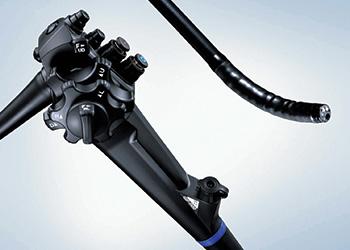 Video Gastroscope
EVIS X1™ GIF-1100 Gastrointestinal Videoscope
The EVIS X1 GIF-1100 gastrointestinal videoscope provides high definition image quality and a control section designed for improved user comfort and scope handling.1 Its innovative observation modes with the CV-1500 video system center, slim design and ErgoGrip make it an easy-to-operate routine gastroscope that supports the physician in effective detection, diagnosis and endoscopic therapy.1,2,3
---
Key Benefits
Innovative observation modes: When the GIF-1100 is used with the EVIS X1 CV-1500 video system center, its 5-LED light source offers several innovative observation modes (TXI™ processing technology, and RDI™ and NBI™ lighting technologies), and its noise reduction system enables clear observation with less noise.2
ErgoGrip: The control section of the GIF-1100 scope is about 10% lighter than the GIF-HQ190. Its rounded handle and easy-to-reach angulation control knobs and scope switches contribute to improved scope maneuverability, accommodating users with small hands.3
Slim design: The slim design of the GIF-1100 scope, as well as its 2.8 mm wide instrument channel and Close Focus feature, are designed to support effective observation and treatment capabilities. Close Focus allows the user to observe the mucosal surface within 2 mm without electronic magnification.4
Easy to use: The GIF-1100's integrated Water Jet function allows the user to feed water through the auxiliary water channel when necessary, and its air/water nozzle feeds water through the air/water channel to clean the objective lens. This function is designed to maintain clear observation for the physician during diagnosis and treatment of the gastrointestinal tract.5
1 Data on file with Olympus (DC00482729, DC00600786, DC00482729, DC00031984 and DC00482747).
2 Data on file with Olympus (DC00661980).
3 Data on file with Olympus (DC00436067).
4 Data on file with Olympus (DC00429175, DC00600786 and DC00670544).
5 Data on file with Olympus (DC00485420 and DC00485027).
---
TXI™, RDI™ and NBI™ technologies are not intended to replace histopathological sampling as a means of diagnosis.
Improper use of endoscope may result in patient injury, bleeding, and/or perforation. For complete indications, contraindications, warnings, and cautions, please reference the full Instructions for Use (IFU) that accompanied your product.
This site is published by Olympus America Inc., which is solely responsible for its contents and is intended for U.S. audiences only. Not all products are available for sale in all markets.
This site is intended for Healthcare Professionals. If you are a patient, it is important that you discuss information about the benefits and risks of products with your doctor.
All trademarks are property of their respective owners.
---
Product Support
Channel Width: 2.8 mm 
Working Length: 1030 mm 
Field of View: 140°
Direction of View: Forward-Viewing
Depth of Field: 2 – 100 mm
Outer Diameter: 8.9 mm 
Outer Diameter Insertion Tube: 8.9 mm 
Max Angulation Up: 210°
Max Angulation Down: 90°
Max Angulation Right: 100°
Max Angulation Left: 100°
Olympus® Service & Repair
Olympus offers a broad range of services to healthcare professionals and to our customers, including contact hour and peer-based training courses; information, training tools and videos on infection control and reprocessing; authorized repair services and support on Olympus equipment; and financing solutions to help your facility with acquisition of new capital equipment, accessories, and maintenance plans.
Need Help?
Cleaning, Disinfection & Sterilization
The proper cleaning, disinfection, and sterilization of Olympus equipment is equally as important as their proper use.
Olympus Training & Proper Use
Olympus Continuum, is a comprehensive platform of education and training experiences led by healthcare experts from around the world. Learning opportunities include hands-on courses, online learning, lectures and workshops, peer-to-peer training, accredited continuing education, and on-demand learning.
For more information: Olympus Continuum Video