VISERA ELITE II Surgical Imaging Platform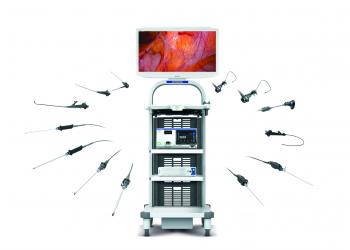 Video System
VISERA ELITE II Surgical Imaging Platform
20 Procedure Specific Cameras & Video Endoscopes, 9+ specialties = 1 Simple & Powerful Platform.
VISERA ELITE II is the newest imaging platform from Olympus for endoscopic procedures across all surgical specialties including General Surgery, Urology, Gynecology, Otolaryngology and Orthopedic surgery.
Whereas most imaging systems require two or more devices, the VISERA ELITE II Surgical Imaging Platform provides everything in one compact system, achieving a single connection to more than 20 compatible model videoscopes and camera heads.
The one-box multi-specialty platform leads to a simplified OR workflow from equipment preparation, to maintenance, troubleshooting, and cable management. In addition, standardized equipment across departments help minimize the time for training of nurses and OR staff throughout your facility.
---
Product Support
Olympus Service & Repair
Olympus offers a broad range of services to healthcare professionals and to our customers, including contact hour and peer-based training courses; information, training tools and videos on infection control and reprocessing; authorized repair services and support on Olympus equipment; and financing solutions to help your facility with acquisition of new capital equipment, accessories, and maintenance plans.
Need Help?
Cleaning, Disinfection & Sterilization
The proper cleaning, disinfection, and sterilization of Olympus equipment is equally as important as their proper use. 
Olympus Training & Proper Use
Olympus offers a variety of educational opportunities for medical and surgical healthcare professionals. 
Peer-To-Peer Training
Our Professional Education Program provides multiple types of peer-to-peer training in order to meet the specific educational needs of physicians and nurses focused on the safe and effective use of Olympus products.
Olympus University
Olympus Professional Education also offers training programs through Olympus University (OU). Geared toward nurses, reprocessing technicians and biomeds, many of the OU courses are available for nursing contact hour continuing education credit.
Visit Olympus University
Camera Head From