Health Economics and Reimbursement
Olympus acknowledges that the needs of healthcare providers are changing. The movement to value-based health care means that healthcare stakeholders need to make financial decisions related to care delivery and improved patient outcomes on a routine basis.
To help address these needs, Olympus has developed healthcare business solutions providing timely insights and resources to assist our customers so that they can better manage in the changing health care environment.
Some of Olympus business focused solutions are listed below. Please review these areas to learn more and continue to check for updates.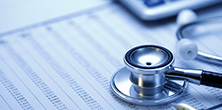 Olympus has a full collection of reimbursement materials to help healthcare providers be more informed and to make better economic decisions.