Learn more about how the ORBEYE™ exoscope can be part on keeping you and your patients safe during the COVID era
Learn More
ORBEYE™ Exoscope

The Future of Surgery is Looking Up
Freedom from the Ocular Lens

Unrestricted Angles & Exoscope Head Positioning
More Comfortable and Natural
Untether yourself from the traditional ocular-lens-based microscopes and experience a more ergonomic and more comfortable heads-up posture while operating. ORBEYE's small and flexible optical unit can facilitate multiple surgical positions without compromising your posture or causing discomfort.
The ORBEYE technology, paired with big screen, high resolution, 4K 3D viewing, provides a one-of-a-kind surgical imaging experience.
Learn More About Technology
Operative Efficiency
ORBEYE's small and flexible head enables the surgeon to observe the surgical field from various angles which facilitates multiple surgical positions, approaches and techniques without the compromise of surgeon posture or discomfort when compared with conventional microscopes.
Agile autofocus, optical and digital zoom function allows for quick magnification change from X1 to X26 depending on configuration.
At high magnification, ORBEYE provides the capability to recognize details of the brain parenchymal surface and direction of the nerve fibers. Instant change between high and low magnification is useful for anastomosis of vessels and visualization of the anatomy.
Learn More About Technology
Click here to learn more about Image Management options for the ORBEYE exoscope.
4K 3D Imaging
Ergonomic Benefits
Magnification
Applicable for Various Specialties
Due to its versatile design, the ORBEYE can be a visualization tool for multiple surgical specialties and procedures.
ORBEYE's compact size offers convenient placement in multiple OR configurations. Multiple specialty usage may increase cost-effectiveness and utilization as well as provide a return on investment for administration.
Learn More About Clinical Areas
Used for Multiple Surgical Specialties
Compact Size
---
Educational Advantages

The ORBEYE exoscope enables you to work side by side with your assistant in the same orientation, which optimizes the workflow for multiple surgeons. It ensures an immersive experience for the entire surgical team due to its big screen 4K 3D imaging, which facilitates teamwork, surgical training and better anticipation of the surgical steps by the team.
Work Side by Side
Staff Inclusion
Easy, Simple & Efficient
Easy Draping
The compact design of the ORBEYE exoscope allows for quick one-person sterile draping and easy transportation between operating rooms. Due to its versatile design, ORBEYE can be used as a visualization tool for numerous surgical specialties and procedures and is ready for use in just a few minutes.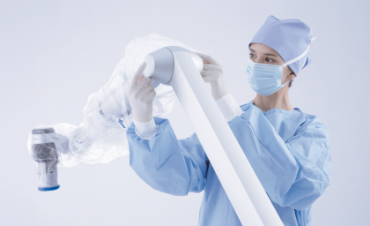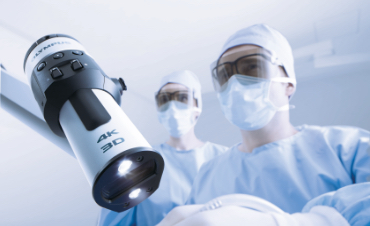 Plug and Play
ORBEYE eliminates the need for pre-procedure balancing or center of gravity adjustment. Traditional surgical microscopes require this step due to changes of the machine's center of gravity when moving heavier ocular eyepieces.
Easy Transportation
Thanks to its compact and light weight design, ORBEYE can be easily transported from OR to OR and be used for various specialties such as Neurosurgery, Plastics & Reconstruction, ENT, MIS, Pediatrics and other open surgeries.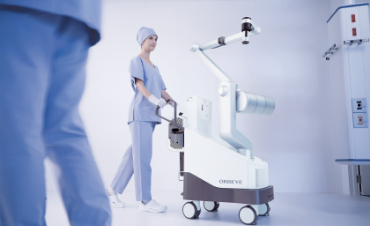 4K 3D Monitor
The ORBEYE utilizes proprietary Big Screen 4K 3D Visualization in real-time with zero latency on 55" 4K 3D monitors within the operating room, with End to End 4K system: Four times the resolution of HD imaging helps to see the details. 3D: Natural depth of field visualization while remaining in natural ergonomic operating position. Larger Color Gamut: Helps in delineation of tissue boundaries, visualization of blood vessels and lesions.
Foot Control
The ORBEYE can be controlled via a wireless foot switch. Adjustments to the position on the x- and y-axis can be achieved seamlessly, even under very high magnification. Next to the adjustments of focus and magnification, the programming of 6 custom buttons allows for best possible customization.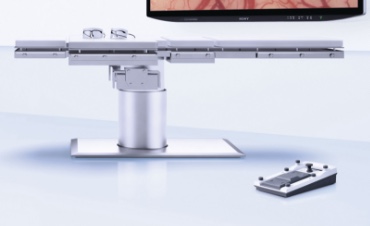 ---
Contact Us
Please share with us your contact details to receive personalized information about the ORBEYE exoscope.