4K 3D Technology

Real-life Color Gamut & Depth Perception
Precise Images for Seeing More Anatomical Details and Tissue Structures
See anatomical details with four times the resolution of standard HD imaging while experiencing true depth perception with natural 3D visualization to reliably identify tissue boundaries, blood vessels and lesions via a larger color range.
Experience with the ORBEYE™ exoscope agile autofocus and optical and digital zoom — up to 26 times magnification, providing ample magnification flexibility.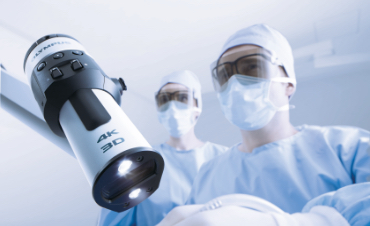 Real-time Visualization
With Zero Delay
The ORBEYE exoscope offers no image latency — zero delay between the movement of your instruments and the 4K 3D image. Fast image processing achieves real-time visualization. ORBEYE's powerful processing system produces zero delay between surgeon's movements and 3D image on monitor, allowing for precise instrument placement and visualization.
4K 3D Imaging Chain
ORBEYE imaging components form a harmonious chain that are fine-tuned to deliver the best possible 4K 3D image. All of the components work together seamlessly to generate improved visibility. Each component, from the light up to the monitor, is built specifically and proprietarily for the ORBEYE exoscope and to produce end to end full 4K visualization.
55" Big Screen Monitor

Allows for an Immersive Team Experience
The ORBEYE exoscope enables you to work side by side with your assistant in the same orientation, which optimizes the workflow for multiple surgeons. It ensures an immersive experience for the entire surgical team due to its big screen 4K 3D imaging, which facilitates teamwork, surgical training and better anticipation of the surgical steps by the team.
Connectivity and Image Management
ORBEYE, paired with MedPresence and nCare, allows for a continuum of connectivity and image management enabling physicians to take control of the OR with ease and care.
MedPresence™
Telecollaboration for the Procedure Suite
MedPresence is an enterprise telecollaboration solution that offers virtual real-time access to clinical consultations, technical support, training, and clinical education.
This connectivity can open up new opportunities and dimensions of support, collaboration, teaching, and interaction—from within the medical facility, from Olympus to the customer, and to classrooms and live conferences.
Learn More About MedPresence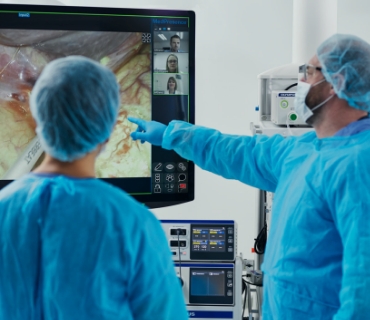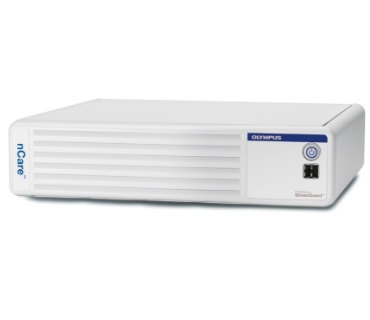 nCare™ recorder
with VaultStream™ system
Effortlessly Create Visual Records
nCare is a medical recorder that captures high-resolution images and high-definition video from up to two surgical devices simultaneously. nCare easily, reliably, and securely connects clinicians with the critical visual information they need.
VaultStream is a smart, centralized medical content management system that provides storage and access to recorded clinical images and videos linked to patient data across the hospital.
The nCare can also be used to broadcast cases live using MedPresence.
Learn More About nCare
HVO-4000ST 4K Video Recorder
Record 3D4K Videos & Still Images
The HVO-4000St is a 4K video recorder that records simultaneously 4K, 3D, 2D HD and still images from the ORBEYE exoscope, and other compatible medical imaging systems.
The recorded images can be used for training and education purposes. Includes DICOM capabilities.