nCare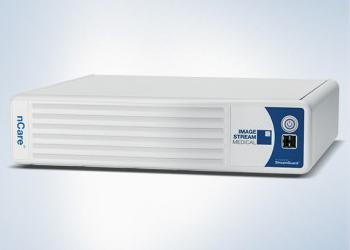 Video System
nCare
Effortlessly Create Visual Records
nCare is a medical recorder that captures high-resolution images and high-definition video from up to two surgical devices simultaneously. nCare easily, reliably, and securely connects clinicians with the critical visual information they need. The user-friendly solution can fit nearly anywhere, from an endoscopic cart to an O.R. equipment boom. Unlike other recorders, the nCare medical recorder can be used in a self-contained fashion or connected to hospital networks and enterprise systems. Store recorded visual data locally on the nCare device, externally to a USB drive, or automatically save and manage visual data on VaultStream, a centralized surgical image and video content management system.
---
Key Benefits
Capture virtually any video signal up to 1080p HD
Single or dual channel recording models
Dual channel capable of recording two sources at the same time
Standard MPEG-4 video and JPEG image formats 
High-quality, live video loop for secondary display
Shows recording/image capture status, image count, etc.
Control via touch panel, remote PC or iPad® 
Free text labeling for videos, images, and print reports 
Side-by-side comparative analysis (past vs. current procedures)
Streamguard - Provides controlled shutdown in event of power loss to prevent corruption of images/video
Product Support
Video Recording: HD, Single or dual-channel
Clinical Collaboration: Live Video Streaming, Virtual Collaboration & Support Via MedPresence 
Device Adapters, Switches, & Network Accessories: Direct SDI(s) and/or DVI and S-Video EasyLink Adapters 
5-port Multiformat Input Switcher, Output Switcher for two DVI displays, Wireless Extension Kit 
Displays (all with a native 1080p resolution) 
15" medical-grade touch-panel 
15" commercial-grade touch-panel 
21.5" medical-grade touch-panel 
Enterprise & HIS Integration 
DICOM format videos (DICOM image submission to PACS is included on all models) 
HL7 Orders & Results
Image Capture 
Footswitch and camera head trigger for uninterrupted image capture 
TallyLight™ for visual confirmation of image capture  
Olympus® Service & Repair
Olympus offers a broad range of services to healthcare professionals and to our customers, including contact hour and peer-based training courses; information, training tools and videos on infection control and reprocessing; authorized repair services and support on Olympus equipment; and financing solutions to help your facility with acquisition of new capital equipment, accessories, and maintenance plans.
Need Help?