EVIS X1™ CF-HQ1100DL/I Colonovideoscope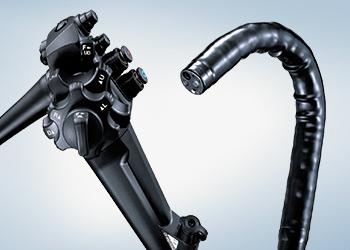 Colonoscope
EVIS X1™ CF-HQ1100DL/I Colonovideoscope
Easy-to-operate routine adult colonoscope that supports the physician in effective detection, diagnosis and endoscopic therapy.1
---
Key Benefits

Optical Diagnosis Empowered by Dual Focus and NBI™ Technology- Dual Focus, an Olympus® optical innovation, allows the user to select the desired depth for observation and provides close-up images when in near focus mode with the simple push of a scope switch.2 It supports the user's confidence in their optical assessment of lesions in combination with well-established Narrow Band Imaging™ (NBI™) Technology observation.3

High Image Quality and Innovative Observation Mode with CV-1500 - When CF-HQ1100DL/I is combined with the CV-1500 Video Processor, the processor's 5-LED light source offers innovative observation modes, — TXI™ (Texture and Color Enhancement Imaging) technology, RDI™ (Red Dichromatic Imaging) technology, and NBI™ Technology — while its noise reduction system enables clear observation with less noise.4

ErgoGrip - The control section of the CF-HQ1100DL scope is about 10% lighter than the CF-HQ190L.5 Its rounded handle and easy-to-reach angulation control knobs and scope switches contribute to improved scope maneuverability and are designed to accommodate users with small hands.6

Delivering Excellence in Routine Colonoscopy Other Features
ScopeGuide™ Technology-ready
170° Wide Viewing Angle
WaterJet
Waterproof One-touch Connector
1 Data on file with Olympus (DC00031984 & DC00482967)
2 Data on file with Olympus (DC00479164 & DC00478777)
3 Data on file with Olympus 7/17/2020
4 Data on file with Olympus (DC00489968)
5 Data on file with Olympus (DC00482867)
6 Data on file with Olympus (DC00510194)
---
NBI, RDI, and TXI technologies are not intended to replace histopathological sampling as a means of diagnosis.
Improper use of endoscope may result in patient injury, bleeding, and/or perforation. For complete indications, contraindications, warnings, and cautions, please reference full Instructions for Use (IFU) that accompanied your product.
---
Product Support
Optical System
Field of view
Normal focus mode: 170°
Near focus mode: 160°
Direction of view
Forward viewing
Depth of field
Normal focus mode: 5-100 mm
Near focus mode: 2-6 mm
Insertion Section
Distal end outer diameter
13.2 mm
Distal end enlarged:

Insertion tube outer diameter
12.8 mm
Working length
L: 1680 mm I: 1330 mm
Instrument Channel
Channel inner diameter
3.7 mm
Minimum Visible distance1
4 mm (Normal focus mode)
Direction from which EndoTherapy accessories enter and exit the endoscopic image:

Auxilary Water Channel
Direction from which water jet appears in the endoscopic image:

Bending Section
Angulation range
Up 180° / Down 180° /
Right 160° / Left 160°
Total Length
L: 2005 mm I: 1655 mm
Compatible System
Video system center OLYMPUS CV-1500
Video system center OLYMPUS CV-190
Xenon light source OLYMPUS CLV-190
1 Distance from the distal end of the endoscope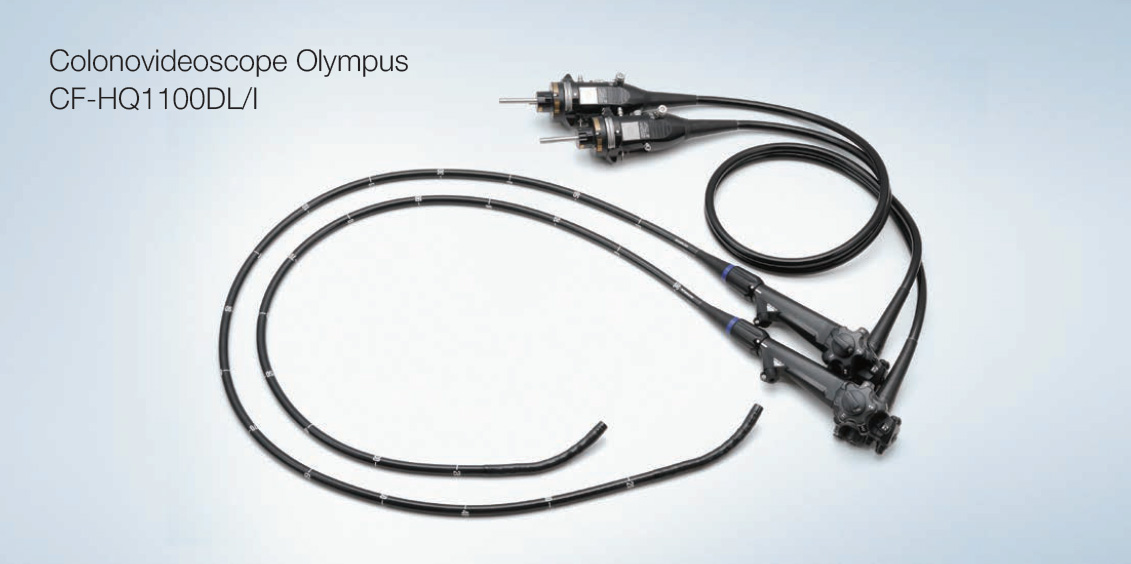 Olympus® Service & Repair
Olympus offers a broad range of services to healthcare professionals and to our customers, including contact hour and peer-based training courses; information, training tools and videos on infection control and reprocessing; authorized repair services and support on Olympus equipment; and financing solutions to help your facility with acquisition of new capital equipment, accessories, and maintenance plans.
Need Help?
Cleaning, Disinfection & Sterilization
The proper cleaning, disinfection, and sterilization of Olympus equipment is equally as important as their proper use.
Olympus Training & Proper Use
Olympus Continuum, is a comprehensive platform of education and training experiences led by healthcare experts from around the world. Learning opportunities include hands-on courses, online learning, lectures and workshops, peer-to-peer training, accredited continuing education, and on-demand learning.
For more information: Olympus Continuum Video