OFP-2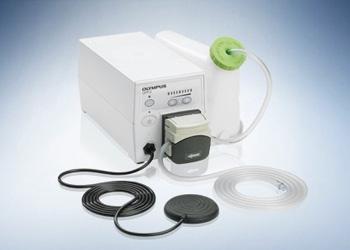 Pumps
Flushing Pump
OFP-2
The Olympus OFP-2 pump delivers power and control that can irrigate fluid via either the instrument or auxiliary water channels of endoscopes. This allows the washing of gastric and colonic mucosa during procedures for improved images. It can also rapidly fill organs with fluid, allowing endoscopic ultrasound. For optimal performance of your OFP-2 pump, use the MAJ-1651 and MAJ-1652 or Olympus Hybrid Tube.
---
Key Benefits
Irrigation via the instrument or water channel: The OFP-2 can irrigate fluid via the instrument or auxiliary water channels of endoscopes, allowing gastric and colonic mucosa to be washed during procedures.
Powerful and controlled flow rate: A powerful flow allows organic material to be washed away efficiently while precise microprocessor controls prevent over pressurization of endoscopes.
Rapid fluid filling for EUS: The OFP-2 is able to rapidly fill organs with fluid, allowing endoscopic ultrasound procedures to be performed.
Remote control or foot switch operation: The OFP-2 can be controlled via a remote control or a foot switch, allowing the user to choose the method that suits the procedure best.
---
Product Support
Instrument Channel Compatibility:
Flushing via the instrument channel with a high flow rate allows rapid clearing of large amounts of debris in insufficiently prepared patients undergoing colonoscopy or to rapidly fill organs for efficient EUS for improved images.
Auxiliary Water Channel Compatibility:
Flushing through the auxiliary water channel allows accurate cleaning and flushing of the visual field without occupying the instrument channel. This allows a clear view during hemostasis without requiring removal of the endoscopic device.
Sterile Consumables:
The consumables for the pump are sterile and do no require processing before use. Instrument channel consumables are for single-patient use, and auxiliary channel consumables are for one day's use for added cost effectiveness.
Standby Mode:
Automatically selected when the pump head is opened, the standby mode allows safe exchange of water channel tubes without operating the main switch.
20-Second Cutoff Timer:
The timer automatically cuts off flow after 20 seconds, ensuring a patient is not accidentally overfilled with fluid or insufflated when the water container is empty.
Reverse Pumping:
Once the foot switch it released, the pump head runs in reverse a number of times, reducing pressure in the tubes and allowing more accurate flow control.
User-Friendly Features:
A bright LED display allow easy operation of the pump even a darkened room, and flat-panel touch buttons enable efficient cleaning.
OFP-2 Tubing, Connectors and Accessories:
Category
Catalog number
Description
Quantity
Hybrid Tubing Solution
MAJ-2207
Irrigation Tubing with CO2 Cap A - single-day use
10
MAJ-2209
Irrigation Tubing with Air Cap A - single-day use
10
K10037012
CO2 Source Tube - single-day use
40
K10037009
CO2 Source Adaptor – low level disinfection
1
Disposable solution for Auxiliary Channel
MAJ-1651
Water tube, single-day use
10
MAJ-1652
Adapter, single-patient use
100
Instrument channel disposable Solutions
K10007072
MAJ-1606, adapter, single-patient use
100
K10016091
MAJ-1606, adapter, single-patient use
10
K10001146
MAJ-1607, water tube, single-patient use
50
K10016136
MAJ-1607, water tube, single-patient use
10
Disposable/reusable solution for Auxiliary Channel
K10001147
MAJ-1608, water tube, single-day use
50
K10016135
MAJ-1608, water tube, single-day use
10
MAJ-855
MAJ-855 reusable auxiliary water tube
1
OFP-2 accessories
MAJ-920
Remote control cable
1
MAJ-1603
Water container 2 L, autoclavable
1
K10011134
Annual replacement pump head
1
Olympus® Service & Repair
Olympus offers a broad range of services to healthcare professionals and to our customers, including contact hour and peer-based training courses; information, training tools and videos on infection control and reprocessing; authorized repair services and support on Olympus equipment; and financing solutions to help your facility with acquisition of new capital equipment, accessories, and maintenance plans.
Need Help?
Cleaning, Disinfection & Sterilization
The proper cleaning, disinfection, and sterilization of Olympus equipment is equally as important as their proper use.
Olympus Training & Proper Use
Olympus Continuum, is a comprehensive platform of education and training experiences led by healthcare experts from around the world. Learning opportunities include hands-on courses, online learning, lectures and workshops, peer-to-peer training, accredited continuing education, and on-demand learning.
For more information: Olympus Continuum Video