KV-6 Suction Pump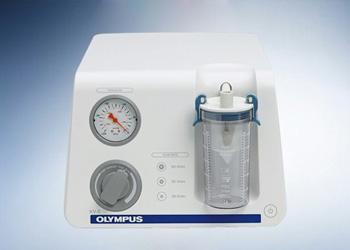 Suction Pump
KV-6 Suction Pump
The KV-6 Suction Pump is designed for endoscopic aspiration. The unique flow change buttons allow a fast vacuum build-up with a single touch. It has a 'whisper mode' for quiet operation and 'turbo mode' for faster suction.
---
Key Benefits
High Suction Performance The KV-6 suction pump has vacuum capabilities of up to -95kPa. There are three pre-set speed settings (40l/min, 50l/min and 60l/min), which enables the operator the flexibility to control the rate of vacuum build-up at a touch of a button.
Cleaning and hygiene  Single use collection system allows easy and safe disposal of clinical waste. Touch sensitive buttons do not protrude making external cleaning easier.
Compatibility Compatible with existing KV-5 accessories and Olympus workstations.
Product Support
Olympus® Service & Repair
Olympus offers a broad range of services to healthcare professionals and to our customers, including contact hour and peer-based training courses; information, training tools and videos on infection control and reprocessing; authorized repair services and support on Olympus equipment; and financing solutions to help your facility with acquisition of new capital equipment, accessories, and maintenance plans.
Need Help?
Olympus Training & Proper Use
Olympus Continuum, is a comprehensive platform of education and training experiences led by healthcare experts from around the world. Learning opportunities include hands-on courses, online learning, lectures and workshops, peer-to-peer training, accredited continuing education, and on-demand learning.
For more information: Olympus Continuum Video