KV-6 Suction Pump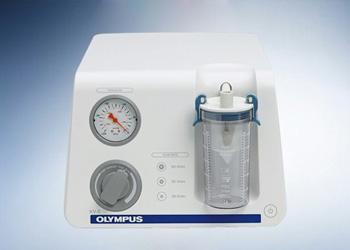 Suction Pump
KV-6 Suction Pump
The KV-6 Suction Pump is designed for endoscopic aspiration. The unique flow change buttons allow a fast vacuum build-up with a single touch. It has a 'whisper mode' for quiet operation and 'turbo mode' for faster suction.
---
Key Benefits
High Suction Performance The KV-6 suction pump has vacuum capabilities of up to -95kPa. There are three pre-set speed settings (40l/min, 50l/min and 60l/min), which enables the operator the flexibility to control the rate of vacuum build-up at a touch of a button.
Cleaning and hygiene  Single use collection system allows easy and safe disposal of clinical waste. Touch sensitive buttons do not protrude making external cleaning easier.
Compatibility Compatible with existing KV-5 accessories and Olympus workstations.
Product Support
Olympus Service & Repair
Olympus offers a broad range of services to healthcare professionals and to our customers, including contact hour and peer-based training courses; information, training tools and videos on infection control and reprocessing; authorized repair services and support on Olympus equipment; and financing solutions to help your facility with acquisition of new capital equipment, accessories, and maintenance plans.
Need Help?
Olympus Training & Proper Use
Olympus offers a variety of educational opportunities for medical and surgical healthcare professionals. 
Peer-To-Peer Training
Our Professional Education Program provides multiple types of peer-to-peer training in order to meet the specific educational needs of physicians and nurses focused on the safe and effective use of Olympus products.
Olympus University
Olympus Professional Education also offers training programs through Olympus University (OU). Geared toward nurses, reprocessing technicians and biomeds, many of the OU courses are available for nursing contact hour continuing education credit.
Visit Olympus University