Universal Ultrasound Processor for EBUS (EU-ME2)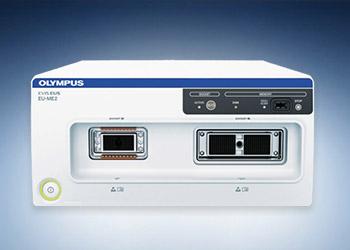 Endobronchial Ultrasound
Universal Ultrasound Processor for EBUS (EU-ME2)
The EU-ME2 and EU-ME2 Premier Plus provide outstanding image quality, comparable to a large radiology processor, in a compact model.  This versatile system allows real-time visualization of the targeted area for precise sampling of lymph nodes and peripheral lesions.  It's unique design supports electronic and mechanical scanning for both curvilinear and radial EBUS in one compact box.
The EU-ME2 is forward and backward compatible with a wide range of Olympus EUS and EBUS scopes as well as ultrasound miniature probes. Since the processor is appropriate for gastroenterology, pulmonary and thoracic surgery departments, it offers healthcare facilities with a cost-effective resource that can be shared across specialties.
---
Key Benefits
Advanced visualization:  Enhanced features reduce noise and allow thorough observation with more detailed images, potentially providing easier identification of boundaries and recognition of tissue layers. 

Advanced versatility:  The EU-ME2 is fully compatible with a wide range of EBUS and EUS scopes and probes. With integrated electronic and mechanical scanning, the EU-ME2 supports both curvilinear and radial EBUS. 

Advanced functionality:  Features such as B-mode, High Resolution Flow and Pulse Wave Doppler expand available modes of observation, designed to assist in diagnosis and improved quality of care. 
Product Support
Olympus Service & Repair
Olympus offers a broad range of services to healthcare professionals and to our customers, including contact hour and peer-based training courses; information, training tools and videos on infection control and reprocessing; authorized repair services and support on Olympus equipment; and financing solutions to help your facility with acquisition of new capital equipment, accessories, and maintenance plans.
Need Help?
Cleaning, Disinfection & Sterilization
The proper cleaning, disinfection, and sterilization of Olympus equipment is equally as important as their proper use. 
Olympus Training & Proper Use
Olympus offers a variety of educational opportunities for medical and surgical healthcare professionals. 
Peer-To-Peer Training
Our Professional Education Program provides multiple types of peer-to-peer training in order to meet the specific educational needs of physicians and nurses focused on the safe and effective use of Olympus products.
Olympus University
Olympus Professional Education also offers training programs through Olympus University (OU). Geared toward nurses, reprocessing technicians and biomeds, many of the OU courses are available for nursing contact hour continuing education credit.
Visit Olympus University
---