EBUS Bronchoscope (BF-UC180F)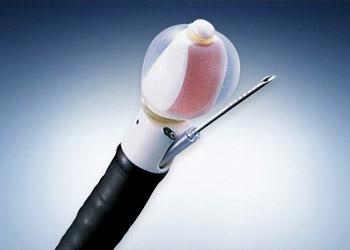 Bronchoscope
EBUS Bronchoscope (BF-UC180F)
When success hinges on your ability to collect an accurate tissue sample, the Olympus EBUS bronchoscope is the proven choice. The uniquely designed distal rigid tip allows optimal angulation and an improved approach to difficult-to-reach nodal stations such as 4L and 10R. The Olympus BF-UC180F features ultrasound capability with the EU-ME2 and other ultrasound processors from Olympus.
---
Key Benefits
Proven results: With numerous clinical studies using the Olympus EBUS Solution, EBUS-TBNA is proven to provide higher diagnostic yield with greater sensitivity and specificity in lymph nodes ≥5 mm.* The optimal angulation of the BF-UC180F is achieved by a uniquely designed shorter distal rigid tip, enabling an improved approach to difficult-to-reach nodal stations such as 4L and 10R.
Real-time sampling: High-resolution, real-time ultrasound imaging enables direct visualization of the ViziShot 2 EBUS-TBNA needle as it penetrates the lymph node. This facilitates correct capsule-to-capsule technique, which helps to optimize sample collection.
Superior accuracy and precision: The advanced real-time technology of Olympus EBUS allows more direct, accurate, and efficient sampling, with better access to more nodal stations and smaller size lymph nodes.*

Larger instrument channel: The Olympus BF-UC180F EBUS scope offers a 2.2 mm instrument channel for improved suction and smooth device insertion.

*Herth FJF, Ernst A, Eberhardt R, et al. Endobronchial ultrasound-guided transbronchial needle aspiration of lymph nodes in the radiologically normal mediastinum. Eur Respir J. 2006;28(5):910-914.
---
Product Support
Direction of View:
35 degree forward oblique
Outer Diameter Insertion Tube:
Olympus Service & Repair
Olympus offers a broad range of services to healthcare professionals and to our customers, including contact hour and peer-based training courses; information, training tools and videos on infection control and reprocessing; authorized repair services and support on Olympus equipment; and financing solutions to help your facility with acquisition of new capital equipment, accessories, and maintenance plans.
Need Help?
Cleaning, Disinfection & Sterilization
The proper cleaning, disinfection, and sterilization of Olympus equipment is equally as important as their proper use. 
Olympus Training & Proper Use
Olympus offers a variety of educational opportunities for medical and surgical healthcare professionals. 
Peer-To-Peer Training
Our Professional Education Program provides multiple types of peer-to-peer training in order to meet the specific educational needs of physicians and nurses focused on the safe and effective use of Olympus products.
Olympus University
Olympus Professional Education also offers training programs through Olympus University (OU). Geared toward nurses, reprocessing technicians and biomeds, many of the OU courses are available for nursing contact hour continuing education credit.
Visit Olympus University