ViziShot 2 EBUS-TBNA Needles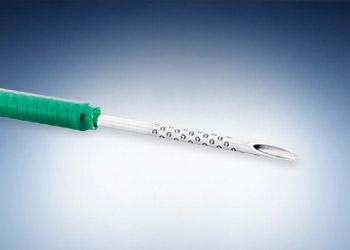 Endobronchial Ultrasound
ViziShot 2 EBUS-TBNA Needles
The Olympus EBUS-TBNA needle line has been used in countless procedures since Olympus first introduced EBUS-TBNA to the market over 15 years ago. Olympus has now expanded upon this proven history with the ViziShot 2 21, 22, and 25 gauge needles offering you better access due to improved flexibility, improved puncture capability thanks to a sharper needle, and enhanced usability with a green contrasting sheath and a more ergonomic handle.
---
Key Benefits
Better Access: Advanced needle design has improved flexibility, helping to support access to lymph node targets that can be difficult to reach with conventional needles.

Improved Puncturability: The backcut design of the ViziShot 2 provides a sharper needle, reducing puncture force required to sample even calcified lymph nodes.

Enhanced Usability: An ergonomic handle and improved bronchoscope adapter enables stability and precise puncture control throughout the procedure.

Enhanced Endoscopic Visibility: A newly designed green colored sheath provides excellent endoscopic visibility, contrasting sharply with adjacent mucosa, to ensure the needle can be deployed at the exact required location with minimal sheath movement.
---
Product Support


Olympus Training & Proper Use
Olympus offers a variety of educational opportunities for medical and surgical healthcare professionals. 
Peer-To-Peer Training
Our Professional Education Program provides multiple types of peer-to-peer training in order to meet the specific educational needs of physicians and nurses focused on the safe and effective use of Olympus products.
Olympus University
Olympus Professional Education also offers training programs through Olympus University (OU). Geared toward nurses, reprocessing technicians and biomeds, many of the OU courses are available for nursing contact hour continuing education credit.
Visit Olympus University