ViziShot 2 EBUS-TBNA Needles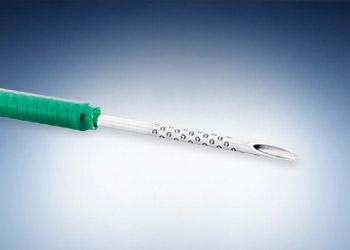 Endobronchial Ultrasound
ViziShot 2 EBUS-TBNA Needles
The Olympus EBUS-TBNA needle line has been used in countless procedures since Olympus first introduced EBUS-TBNA to the market over 15 years ago. Olympus has now expanded upon this proven history with the ViziShot 2 21, 22, and 25 gauge needles offering you better access due to improved flexibility, improved puncture capability thanks to a sharper needle, and enhanced usability with a green contrasting sheath and a more ergonomic handle.
---
Key Benefits
Better Access: Advanced needle design has improved flexibility, helping to support access to lymph node targets that can be difficult to reach with conventional needles.

Improved Puncturability: The backcut design of the ViziShot 2 provides a sharper needle, reducing puncture force required to sample even calcified lymph nodes.

Enhanced Usability: An ergonomic handle and improved bronchoscope adapter enables stability and precise puncture control throughout the procedure.

Enhanced Endoscopic Visibility: A newly designed green colored sheath provides excellent endoscopic visibility, contrasting sharply with adjacent mucosa, to ensure the needle can be deployed at the exact required location with minimal sheath movement.
---
Product Support


Olympus Training & Proper Use
Olympus Continuum, is a comprehensive platform of education and training experiences led by healthcare experts from around the world. Learning opportunities include hands-on courses, online learning, lectures and workshops, peer-to-peer training, accredited continuing education, and on-demand learning.
For more information: Olympus Continuum Video