ViziShot 2 FLEX 19 G EBUS-TBNA Needle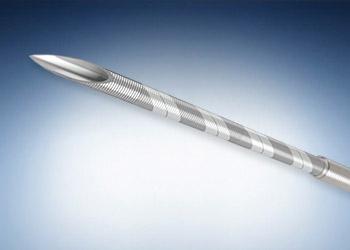 Endobronchial Ultrasound
ViziShot 2 FLEX 19 G EBUS-TBNA Needle
With remarkable flexibility and an impressively large inner lumen, the ViziShot 2 FLEX 19 G needle further advances the capabilities of EBUS-TBNA for diagnosing lung disease and staging lung cancer. The needle's innovative design enables the clinician to obtain ample quantities of high-quality specimens, even in the most challenging locations.
---
Key Benefits
Unique needle tip design: The ViziShot 2 FLEX features an innovative needle tip design to deliver outstanding flexibility. Spiral laser cuts along the sides of the needle surface provide greater flexibility to outperform most other aspiration needles on the market. The result is a needle that offers impressive angulation capabilities to sample targets in difficult-to-reach locations.
Larger inner lumen for improved sample size: As the largest and only 19 G EBUS-TBNA needle currently available in the United States, the ViziShot 2 FLEX outperforms its peers in sample collection. The enlarged inner lumen enables substantial tissue collection for more comprehensive histological analysis.
Enhanced safety features: The ViziShot 2 FLEX includes a proprietary double-locking safety feature to help avoid unintended needle protrusion. The mechanism is designed to prevent accidental patient and personnel injury as well as damage to the EBUS scope.
Echogenic needle tip for optimized visualization and control: For pinpoint accuracy, the distal end of the ViziShot 2 FLEX is treated with spiral echogenic markings to optimize visualization of the needle tip on the ultrasound image. This enhanced visibility facilitates correct capsule-to-capsule technique to optimize sample collection.
Product Support

Olympus® Service & Repair
Olympus offers a broad range of services to healthcare professionals and to our customers, including contact hour and peer-based training courses; information, training tools and videos on infection control and reprocessing; authorized repair services and support on Olympus equipment; and financing solutions to help your facility with acquisition of new capital equipment, accessories, and maintenance plans.
Need Help?
---