Guide Sheath™ Kit 2
Endoscopic Devices
Guide Sheath™ Kit 2
More than just a better way to guide devices to the target site, the Guide Sheath Kit 2 facilitates a smoother, more efficient approach to peripheral pulmonary lesions, enabling ultrasound identification of the lesion and repeated sampling1. Now with a kink-resistant sheath and clip-type device stoppers, this kit provides optimized support for endobronchial diagnosis1.
Complications from bronchoscopy are rare and most often minor, but if they occur, may include breathing difficulty, vocal cord spasm, hoarseness, slight fever, vomiting, dizziness, bronchial spasm, infection, low blood oxygen, bleeding from biopsied site, or an allergic reaction to medications. Only rarely do patients experience other more serious complications (for example, collapsed lung, respiratory failure, heart attack and/or cardiac arrhythmia).
---
Key Benefits
Improved Kink Resistance: Braided wire incorporated in the guide sheath improves flexibility and prevents it from kinking, saving time and money by minimizing the need to replace the guide sheath during a procedure.1
Improved Workflow: The clip-type stoppers are easy to position, helping to speed up position adjustment and reduce setting time. The kit comes with two kinds of stoppers — one for an ultrasound probe and one for EndoTherapy accessories1
Efficient: The Guide Sheath Kit 2 is designed to enhance procedural efficiency. Once positioned at the target site, the guide sheath acts like an extended working channel, allowing safe and repeated access to the lesion for sampling.1
Versatile: The Guide Sheath Kit 2 can be used with Olympus radial EBUS probes for more precise sampling of peripheral pulmonary lesions.1
---
Product Support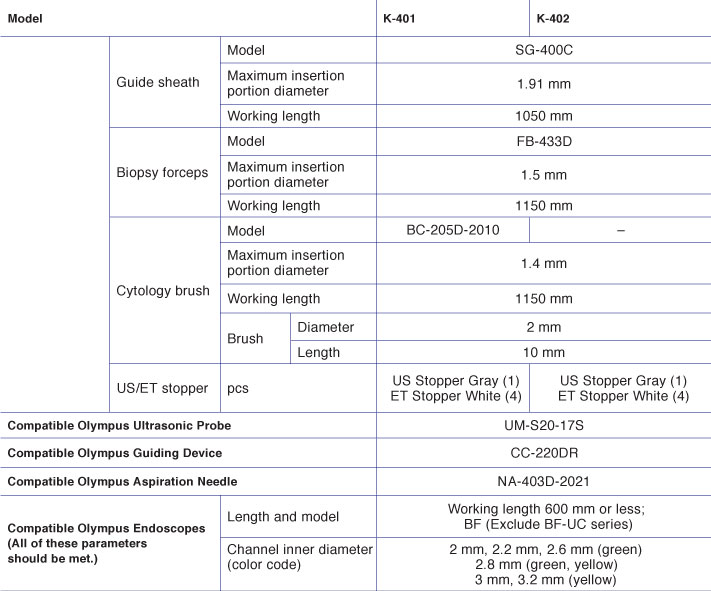 Olympus® Service & Repair
Olympus offers a broad range of services to healthcare professionals and to our customers, including contact hour and peer-based training courses; information, training tools and videos on infection control and reprocessing; authorized repair services and support on Olympus equipment; and financing solutions to help your facility with acquisition of new capital equipment, accessories, and maintenance plans.
Need Help?
Cleaning, Disinfection & Sterilization
The proper cleaning, disinfection, and sterilization of Olympus equipment is equally as important as their proper use.
Olympus Training & Proper Use
Olympus Continuum, is a comprehensive platform of education and training experiences led by healthcare experts from around the world. Learning opportunities include hands-on courses, online learning, lectures and workshops, peer-to-peer training, accredited continuing education, and on-demand learning.
For more information: Olympus Continuum Video
Data on file with Olympus (March 6, 2020).