Diagnostic Bronchoscope (BF-P190)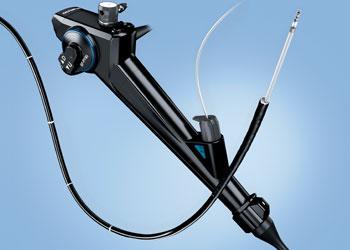 Bronchoscope
Diagnostic Bronchoscope (BF-P190)
The fully rotatable, slim design of the BF-P190 bronchoscope, powered by EVIS EXERA III, along with its additional tip angulation, advances maneuverability to provide better access in peripheral airways.
---
Key Benefits
Rotary Function: Rotary Function: Insertion tube rotation of up to 120° left and right may effectively reduce hand rotation* and supports easier insertion and positioning of endoscopic devices.
210° Tip Angulation: The wide angulation range can be maintained even when an endoscopic device is inserted, making it easier to access difficult-to-reach peripheral areas of the lung.
High-Resolution Image: Revolutionary mini CCD on the scope tip provides unsurpassed image quality compared to any other commercially available slim bronchoscope. (SDTV)
Extended Reach: The Olympus Guide Sheath Kit helps to improve access to peripheral lesions by acting as an extension of the bronchoscope's working channel. When used with proprietary Olympus radial EBUS probes, real-time confirmation of the lesion location can assist in targeted sampling to improve the diagnostic yield.
*When compared to the BF-180 series.
---
Product Support
Outer Diameter Insertion Tube:
Max Angulation Right:
120° with Rotary Function
Max Angulation Left:
120° with Rotary Function
Olympus® Service & Repair
Olympus offers a broad range of services to healthcare professionals and to our customers, including contact hour and peer-based training courses; information, training tools and videos on infection control and reprocessing; authorized repair services and support on Olympus equipment; and financing solutions to help your facility with acquisition of new capital equipment, accessories, and maintenance plans.
Need Help?
Cleaning, Disinfection & Sterilization
The proper cleaning, disinfection, and sterilization of Olympus equipment is equally as important as their proper use.
Olympus Training & Proper Use
Olympus Continuum, is a comprehensive platform of education and training experiences led by healthcare experts from around the world. Learning opportunities include hands-on courses, online learning, lectures and workshops, peer-to-peer training, accredited continuing education, and on-demand learning.
For more information: Olympus Continuum Video