ENDOEYE FLEX 3D (LTF-190-10-3D)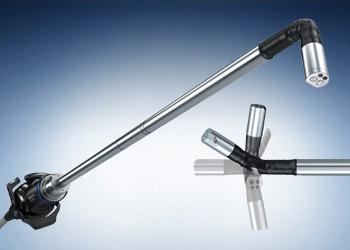 Laparoscopes
Articulating HD 3D Videoscope
ENDOEYE FLEX 3D (LTF-190-10-3D)
The ENDOEYE FLEX 3D is the World's Only Articulating HD 3D Videoscope. Imagine viewing anatomy in 3D, from the ideal angle always with a level visual horizon, and all within a familiar laparoscopic approach.
The ENDOEYE FLEX 3D articulating videoscope provides depth perception and a precise spatial view of anatomy that simply cannot be achieved with traditional 2D systems.
---
Key Benefits
3D Dual Optical Design: The dual lens design is key to helping restore natural 3D vision and depth perception.
3D with 100 Degrees of Articulation: The ENDOEYE FLEX 3D enables observation and therapy in the entire peritoneal cavity by maintaining optimum and correct visual orientation with up to 100 degrees of articulation in all directions.
3D and Focus Free: With its 18 to 100 mm depth of field, the ENDOEYE FLEX 3D eliminates the need for manual focus adjustments for maximum ease of use.
NBI® in 2D or 3D: Narrow Band Imaging (NBI®) enhances visualization of the capillary network and is always available in both 2D and 3D viewing modes.
Easy Switching Between 2D and 3D: The viewing mode is easily switched between 2D and 3D from the surgical field.
All-in-one Lightweight Ergonomic Design: An all-in one integrated design provides a true "plug and play" solution, making set-up easy, reducing the number of components, and eliminating expensive light guide cables.
Product Support
Optical System
Lens system:         Dual-lens 3D optical structure
Field of view:         80°
Direction of view:  Forward viewing
Depth of field:       18–100 mm
Insertion Section
Distal end outer diameter:         10 mm
Rigid section outer diameter:    10 mm
Working length:                         370 mm
Bending Section
Angulation range:  Up 100°, Down 100°, Right 100°, Left 100°
Dimensions
Total Length:               3600 mm
Actual weight in use:   490 g
Remote switch:           3 switches in the control section
To learn more about the LTF-190-10-3D contact an Olympus Sales Representative.
Olympus® Service & Repair
Olympus offers a broad range of services to healthcare professionals and to our customers, including contact hour and peer-based training courses; information, training tools and videos on infection control and reprocessing; authorized repair services and support on Olympus equipment; and financing solutions to help your facility with acquisition of new capital equipment, accessories, and maintenance plans.
Need Help?
Cleaning, Disinfection & Sterilization
The proper cleaning, disinfection, and sterilization of Olympus equipment is equally as important as their proper use.
Olympus Training & Proper Use
Olympus Continuum, is a comprehensive platform of education and training experiences led by healthcare experts from around the world. Learning opportunities include hands-on courses, online learning, lectures and workshops, peer-to-peer training, accredited continuing education, and on-demand learning.
For more information: Olympus Continuum Video
---