Image Management Hub (IMH-20)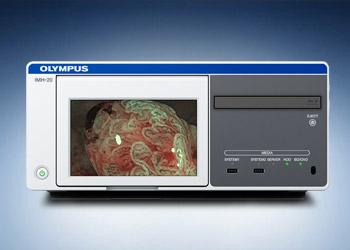 Imaging System
Image Management Hub (IMH-20)
The Olympus IMH-20 Image Management Hub provides full High Definiton (HD) for vivid still or video images along with two-channel, simultaneous, real-time recording. Olympus uses the most advanced compression technology for extended recording times so that even HD images can be compressed into small files. Compatible with all Olympus systems, the IMH-20 easily links processing of records, image management, and editing for increased efficiency, and the touch-panel allows real-time capture or recording of images on the display.
---
Key Benefits
Two-channel, simultaneous recording: Two cameras or scopes can be fitted to a single IMH-20 hub to record images from two sources at the same time.
Touch-panel display: While watching the monitor, the user can record or capture an image in real time by using the touch-panel display.
Network compatibility: The IMH-20 hub links to all Olympus systems, reducing input time and increasing management efficiency.
Full HD images: Vivid still and video images are recorded in full HD, with no degradation in image quality.
Product Support
Video Recording Format: MPEG-4 AVC/H.264
Still Recording Format: BMP, TIFF, JPEG
Compatible Media: HDD, Blu-ray, DVD, USB device
Internal HDD Capacity: 500 GB
Touch-Panel Display: 7-inch LCD
Video Input/Output Jack (HD/SD-SDI, DVI, Y/C, Composite): INPUT 2, OUTPUT: 1
Serial Remote: RS232C, stereo mini pin jack
Size (W x H x D): 370 x 167.5 x 413 mm
Weight: Approx. 10.7 kg
Input Current: 1.9–0.8A
Olympus® Service & Repair
Olympus offers a broad range of services to healthcare professionals and to our customers, including contact hour and peer-based training courses; information, training tools and videos on infection control and reprocessing; authorized repair services and support on Olympus equipment; and financing solutions to help your facility with acquisition of new capital equipment, accessories, and maintenance plans.
Need Help?
Olympus Training & Proper Use
Olympus Continuum, is a comprehensive platform of education and training experiences led by healthcare experts from around the world. Learning opportunities include hands-on courses, online learning, lectures and workshops, peer-to-peer training, accredited continuing education, and on-demand learning.
For more information: Olympus Continuum Video