3D Visualization Unit (3DV-190)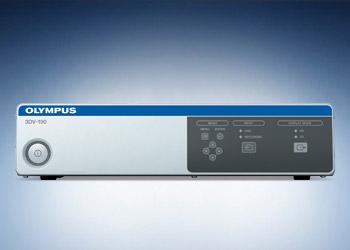 Imaging System
3D Visualization Unit
3D Visualization Unit (3DV-190)
The 3D Visualization Unit allows a 2D integration of the left and right images provided by two CV-190 Video processors. The 3DV-190 delivers the HD 3D signal to monitors and recorders in the optimal formal.  The 3DV-190 also facilitates recording and playback of 3D images to and from the IMH-20 Image Management Hub.
---
Key Benefits
3D Video signal integration: The 3DV-190 integrates the left and right images* provided by two CV-190 video system centers and outputs the 3D signal to 3D monitors and recorders in an optimal format. *Two CV-190 units required.
Multiple 3D Video Outputs and formats: 3D output (3G-SDI, DVI-D) to multiple monitors is available. The 3DV-190 supports several 3D formats:  3G, LINE-BY-LINE and SIDE-BY-SIDE.
Easy 2D/3D Switching: 2D and 3D observation modes can be switched easily by remote control and from the sterile field.
NBI® in 2D and 3D: Narrow Band Imaging is easily available during surgery in both 2D and 3D.
Product Support
Olympus® Service & Repair
Olympus offers a broad range of services to healthcare professionals and to our customers, including contact hour and peer-based training courses; information, training tools and videos on infection control and reprocessing; authorized repair services and support on Olympus equipment; and financing solutions to help your facility with acquisition of new capital equipment, accessories, and maintenance plans.
Need Help?
Cleaning, Disinfection & Sterilization
The proper cleaning, disinfection, and sterilization of Olympus equipment is equally as important as their proper use.
Olympus Training & Proper Use
Olympus Continuum, is a comprehensive platform of education and training experiences led by healthcare experts from around the world. Learning opportunities include hands-on courses, online learning, lectures and workshops, peer-to-peer training, accredited continuing education, and on-demand learning.
For more information: Olympus Continuum Video
---