Endoscopic Ultrasound (EUS)
Committed to
Definitive
Diagnosis
Endoscopic Ultrasound
Diagnose and treat with confidence.
Endoscopic ultrasound (EUS) combines ultrasound and conventional endoscopy technologies to see beyond the walls of the gastrointestinal tract. EUS allows endoscopists to visualize all five layers of the GI tract, as well as surrounding tissue and organs.
Olympus offers a full product portfolio of EUS processors, echoendoscopes, miniature probes and needles to meet physician needs and preferences. These products can support diagnostic, therapeutic and interventional applications such as EUS-guided tissue acquisition, cyst drainage and biopsies of lesions/lymph nodes.
Access
The Olympus portfolio offers a variety of echoendoscopes and miniature probes, creating a total endosonography solution for a full range of minimally invasive applications.
The diagnostic radial array echoendoscope provides a 360°, cross-sectional view of the GI tract and is primarily used for screening. The curvilinear echoendoscopes are useful for therapeutic applications such as tissue sample collection, cyst drainage, biopsies of lesions/lymph nodes and injection for pain management.
In addition, the endoscopic ultrasound miniature probes generate 360° images in the near field for excellent visualization of submucosal areas.
Visualization
Visualization is key to accurately identifying tumors and tissue properties and boundaries. New and enhanced features available on Olympus ultrasound processors improve visualization and assist in diagnostic, therapeutic, and interventional procedures, leading to improved quality of patient care.
Olympus offers a full line-up of ultrasound processors designed to meet and exceed the needs of gastroenterologists performing a wide range of EUS procedures.
Therapeutic EUS
Olympus offers a line-up of single-use FNB and FNA needles to help achieve procedural goals for endoscopic ultrasound in a variety of clinical settings.
The EZ Shot 3 Plus FNB needle offers unparalleled access, enhanced puncturability, predictable trajectory and enhanced echogenicity in 19 G, 22 G, and 25 G configurations.
The EZ Shot 3 FNA needle features the same ergonomic handle as the EZ Shot 3 Plus and is designed for precision sampling of lesions, available in 19 G, 22 G and 25 G configurations to suit clinical preferences.
Products
At Olympus, we are committed to innovation. We deliver today's most comprehensive EUS solution, with a robust portfolio of EUS processors, echoendoscopes and devices.
Endoscopic Ultrasound is the difference between maybe and definitely.
Clinical Support
At Olympus, we strive to be more than just a medical equipment provider to our customers. We provide end-to-end support, from the purchasing process to the procedure and reprocessing services, to build a relationship of trust.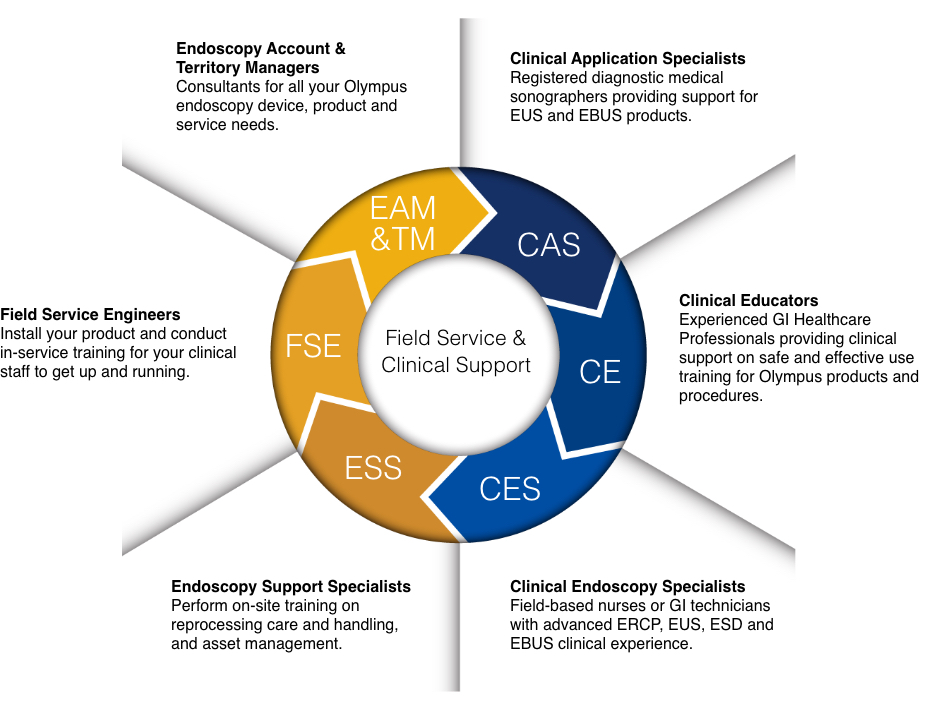 Our Clinical Application Specialists (CAS) are regionally located, experienced sonographers, dedicated to supporting you and your EUS practice. The CAS team offers on-site and virtual support for evaluations, in-services, installs, training, and procedures. Your CAS will show you how to operate your EUS equipment, offering helpful suggestions for image optimization. Our CAS Team is here to help you achieve success with Olympus EUS products, allowing you to help more patients and reach your goals.
---
Education
Educational Webinars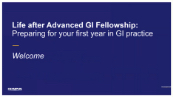 Life after Advanced GI Fellowship: Preparing for your First Year in GI Practice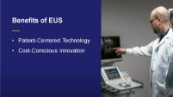 Establishing an EUS Program in Your Community Hospital
---
Resources
You depend on Olympus to deliver the tools, services, and information you need to provide the highest levels of quality and safety in patient care. To make sure that you have access to today's newest advances in endoscopic ultrasound, and remain empowered to make the most of them, we offer education and training programs, comprehensive service and repair programs, and a wide-ranging support network.
White Paper: How to Optimize EUS Images
LEARN MORE
White Paper: Current Measurement Parameters for EUS
LEARN MORE
Watch videos with instructions on how to operate and clean your endoscopic ultrasound echoendoscopes, processors and devices.
LEARN MORE
With an extensive selection of educational programs for endoscopy, Olympus Professional Education is a convenient way for nurses, technicians, biomedical engineers, administrators and materials managers to further their knowledge.
LEARN MORE
Information on Olympus OEM service of equipment and access to the Service Portal.
LEARN MORE
OlympusConnect.com houses the full library of training support, including: Reprocessing Videos, Visual Reprocessing Guides, Instruction Manuals, Reprocessing Manuals, In-service Guides and more.
LEARN MORE
ENDOSCOPIC ULTRASOUND (EUS) NEWS
Sign-up today to receive the latest news and information from Olympus about endoscopic ultrasound (EUS).
LEARN MORE
For additional questions on service, technical assistance, professional education, or sales contact us directly.
LEARN MORE
Patient Information
Pancreatic cancer is the 3rd leading cause of cancer-related death in the US with a low 5-year survival rate, but the chance of survival increases when detected early.
Visit http://www.pancreaticcancerscreening.com to learn more.
Featured Products