Endoscopic Ultrasound (EUS)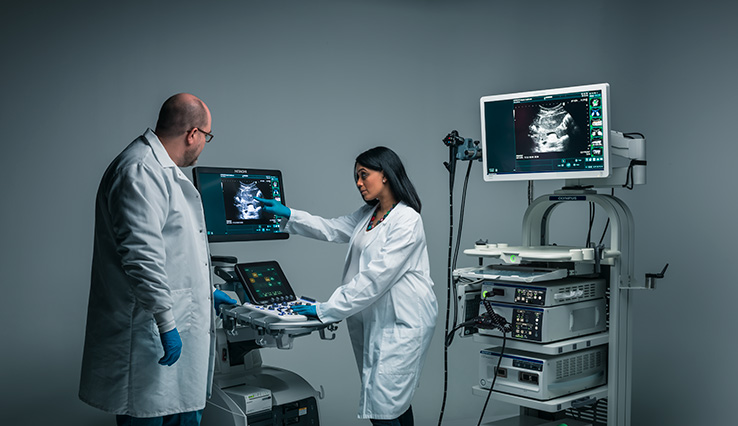 EUS combines ultrasound technology with endoscopy to gain an internal vantage point to obtain higher resolution ultrasound images. While conventional endoscopy only provides a view of the innermost lining of the digestive tract, or its wall, the addition of ultrasound allows the physician to see beyond that wall to visualize all five layers of the GI tract as well as surrounding tissue and organs.
EUS plays an important role in diagnosing diseases of the pancreas, bile duct, liver, spleen and gallbladder as well as the staging of cancers.
Olympus offers a full product portfolio of one radial array echoendoscope and three curvilinear echoendoscopes to meet your needs and preferences. The diagnostic radial array echoendoscope is used to assess anatomy of the GI tract and surrounding structures. It provides a 360°, cross-sectional view of the GI tract and is primarily used for screening. The curvilinear echoendoscopes are useful for therapeutic applications such as tissue sample collection, cyst drainage, biopsies of lesions/lymph nodes and injection for pain management.
Life after Advanced GI Fellowship: Preparing for your first year in GI practice Webinar
Transitioning from an Advanced Fellow to an Attending GI physician can be very stressful. As a fellow you are well-trained and prepared for your role in the procedure room, but there is still a lot to learn about day-to-day life as a gastroenterologist. What about the business side of gastroenterology? In this webinar you will learn ways to: establish an EUS program, choose the appropriate equipment, build referrals/network, and sustain a successful EUS practice. These topics and more will be presented by Dr. Eric Trawick, an experienced practicing advanced gastroenterologist, as well as some insights into his real life experiences. Join Dr. Trawick to learn what to expect after fellowship and how to prepare for the transition.
Establishing an EUS Program in Your Community Hospital Webinar
Although widely available in academic facilities, EUS is increasing in community hospitals. EUS can assist in solidifying the care continuum within your institution and build a support strategy that keeps patients within your network. Stronger continuity supports your patients by providing them with treatment closer to home while potentially providing your institution financial benefit. Listen to this recorded webinar with Dr. Landesman to learn how he established a successful EUS program.