12/20 MHz Ultrasound Probes (UM-2R-3/UM-3R-3)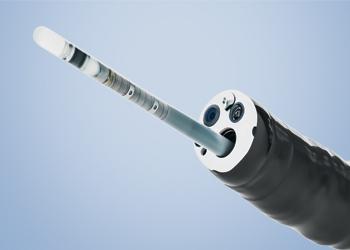 Probes
Miniature Probe
12/20 MHz Ultrasound Probes (UM-2R-3/UM-3R-3)
Olympus Endoscopic Ultrasound Probes generate 360° high-resolution images in the near field for excellent visualization of submucosal areas. To target lesions Olympus offers mechanical radial scanning ultrasound probes with multiple features including guide wire and dual plane reconstruction.
Our most commonly used probes are the UM-2R-3, 12 MHz ultrasound probe, and the UM-3R-3, 20 MHz ultrasound probe which are used to target lesions using the direct contact method. With an outer diameter of just 2.5 mm, it is compatible with scope channels measuring 2.8 mm or greater and is perfect for generating 360° high resolution images in the near field.
---
Key Benefits
Ultrasound scanning:
Featuring 360° mechanical radial scanning, these probes provide an ultrasound view to ensure a precise examination to include the deeper tissue layer.
Detailed ultrasound images:
Available in frequencies of either 12 MHz or 20 MHz these probes generate high-resolution images to facilitate diagnosis and observation.
Product Support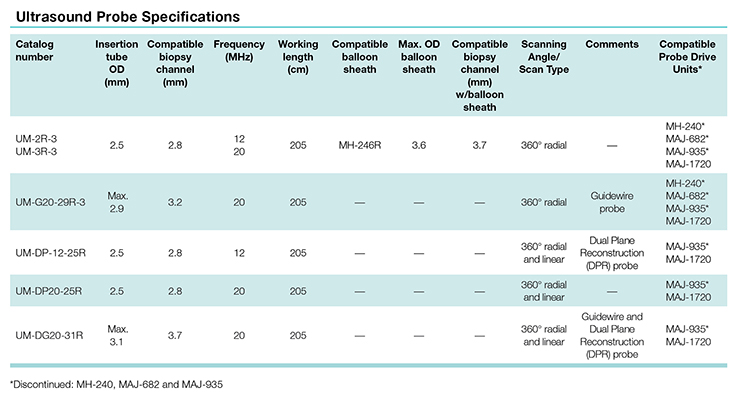 Olympus® Service & Repair
Olympus offers a broad range of services to healthcare professionals and to our customers, including contact hour and peer-based training courses; information, training tools and videos on infection control and reprocessing; authorized repair services and support on Olympus equipment; and financing solutions to help your facility with acquisition of new capital equipment, accessories, and maintenance plans.
Need Help?
Cleaning, Disinfection & Sterilization
The proper cleaning, disinfection, and sterilization of Olympus equipment is equally as important as their proper use.
Olympus Training & Proper Use
Olympus Continuum, is a comprehensive platform of education and training experiences led by healthcare experts from around the world. Learning opportunities include hands-on courses, online learning, lectures and workshops, peer-to-peer training, accredited continuing education, and on-demand learning.
For more information: Olympus Continuum Video
---