GF-UCT180 Curvilinear Array Ultrasound Gastrovideoscope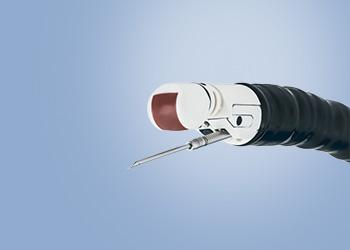 Endoscopic Ultrasound
GF-UCT180 Curvilinear Array Ultrasound Gastrovideoscope
The GF-UCT180 features a newly developed curved linear array transducer that delivers higher-quality ultrasound images with greater resolution and imaging depth in B-mode. The GF-UCT180 offers you the power and flexibility you need for everything from straightforward tissue sampling to sophisticated EUS-guided treatment. A redesigned forceps elevator gives you more reliable control over devices passed through the 3.7 mm diameter instrument channel, while the slim 12.6 mm diameter insertion tube ensures smooth insertion. Narrow Band Imaging™ (NBI) is also available with this ultrasound gastrovideoscope. Other features include a high-resolution CCD for sharp video images and a detachable ultrasound cable that facilitates easier handling, reprocessing and storage, as well as ensuring system compatibility.
---
Key Benefits
Superb imaging: High-resolution B-mode imaging allows precise endoscopic ultrasound imaging during examinations while Narrow Band Imaging enhances visualization of the mucosal surface. 
Improved forceps elevator design: The redesigned forceps elevator provides more reliable control over endoscopic devices.
Increased penetration depth: The design of this curved linear array transducer delivers higher-quality ultrasound images with greater imaging depth in B-mode.
Product Support
Ultrasound scanning range: 180 degrees
Channel Diameter: 3.7 mm
Working Length: 125 cm
Field of View: 100 degrees
Direction of View: 55 degrees (forward oblique)
Depth of Field: 3 - 100 mm
Outer Diameter Insertion Tube: 12.6 mm
Max Angulation Up: 130 degrees
Max Angulation Down: 90 degrees
Max Angulation Right: 90 degrees
Max Angulation Left: 90 degrees
Olympus® Service & Repair
Olympus offers a broad range of services to healthcare professionals and to our customers, including contact hour and peer-based training courses; information, training tools and videos on infection control and reprocessing; authorized repair services and support on Olympus equipment; and financing solutions to help your facility with acquisition of new capital equipment, accessories, and maintenance plans.
Need Help?
Cleaning, Disinfection & Sterilization
The proper cleaning, disinfection, and sterilization of Olympus equipment is equally as important as their proper use.
Olympus Training & Proper Use
Olympus Continuum, is a comprehensive platform of education and training experiences led by healthcare experts from around the world. Learning opportunities include hands-on courses, online learning, lectures and workshops, peer-to-peer training, accredited continuing education, and on-demand learning.
For more information: Olympus Continuum Video
---