EZ Shot 3 Plus Single-Use Aspiration Needle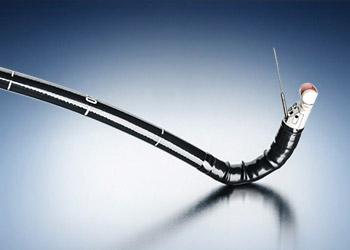 Needles
EZ Shot 3 Plus Single-Use Aspiration Needle

Unparalleled Precision at Every Angle.
EZ Shot 3 Plus single-use endoscopic ultrasound needle provides access to difficult to reach lesions, such as uncinate process lesions without compromising scope position. The combination of the multi-layer coil sheath, nitinol needle*, and Menghini tip allow for precise and smooth penetration into the target lesion. The EZ Shot 3 Plus is available in 19G, 22G and 25G size options.

*Nitinol material available in 19G and 22G size options


---
Key Benefits
Unparalleled Access - Flexible needle design and coil metal sheath allow the needle to be ideally positioned for tissue biopsy, even from difficult scope positions
Enhanced Puncturability - Menghini tip features continuous, smooth cutting edge to cleanly cut tissue specimens, preserving cellular architecture
Predictable Trajectory - The resilient needle shape and design ensure predictable and consistent trajectory while retaining shape after fanning and multiple passes
Distinct Echogenicity - Densely arranged needle dimples provide a distinct hyperechoic appearance on the ultrasound view for precise lesion targeting
---
Product Support
Indications: This instrument has  been designed to use with an Olympus ultrasound endoscope for ultrasonically guided fine needle aspiration (FNA) and fine needle biopsy (FNB) of submucosal and extramural lesion within the gastrointestinal tract (i.e. pancreatic masses, mediastinal masses, perirectal masses and lymph nodes). 
Working Length: 140 cm
Needle Gauge: 19 G / 22 G / 25G
Min Channel Size:  2.8 mm, 3.7 mm
Stylet Tip Shape: Rounded
Side Hole: 19G and 22G options
Use: Single use
Olympus Service & Repair
Olympus offers a broad range of services to healthcare professionals and to our customers, including contact hour and peer-based training courses; information, training tools and videos on infection control and reprocessing; authorized repair services and support on Olympus equipment; and financing solutions to help your facility with acquisition of new capital equipment, accessories, and maintenance plans.
Need Help?
Cleaning, Disinfection & Sterilization
The proper cleaning, disinfection, and sterilization of Olympus equipment is equally as important as their proper use. 
Olympus Training & Proper Use
Olympus offers a variety of educational opportunities for medical and surgical healthcare professionals. 
Peer-To-Peer Training
Our Professional Education Program provides multiple types of peer-to-peer training in order to meet the specific educational needs of physicians and nurses focused on the safe and effective use of Olympus products.
Olympus University
Olympus Professional Education also offers training programs through Olympus University (OU). Geared toward nurses, reprocessing technicians and biomeds, many of the OU courses are available for nursing contact hour continuing education credit.
Visit Olympus University