GF-UE160-AL5 Radial Array Ultrasound Gastrovideoscope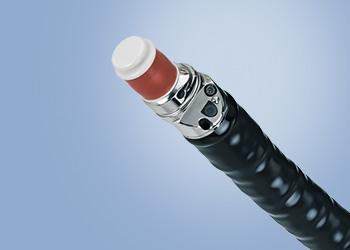 Endoscopic Ultrasound
GF-UE160-AL5 Radial Array Ultrasound Gastrovideoscope
Expanding the potential of EUS, this breakthrough system combines exceptional scope capability and maneuverability with superb ultrasound image quality and advanced ultrasound functionality, enabling confirmation of blood flow conditions for easier orientation in the pancreatobiliary region and providing improved ultrasound image quality for enhanced diagnostic capability.
---
Key Benefits
Full 360° scanning plane: The 360° ultrasound view enables more precise visualization of the upper GI tract and allows easier anatomical orientation via image rotation capabilities.
High-resolution images: Various different frequencies ranging from 5-12 MHz permit the highest ultrasound image quality while the build-in CCD enables clear endoscopic video images.
Excellent maneuverability: A small diameter, wide angulation range and short distal end enable excellent scope maneuverability.
Product Support
Ultrasound scanning range: 360 degrees
Channel Diameter: 2.2 mm
Working Length: 125 cm
Field of View: 100 degrees
Direction of View: 55 degrees (forward oblique)
Depth of Field: 3 - 100 mm
Outer Diameter Insertion Tube: 11.8 mm
Max Angulation Up: 130 degrees
Max Angulation Down: 90 degrees
Max Angulation Right: 90 degrees
Max Angulation Left: 90 degrees
Olympus Service & Repair
Olympus offers a broad range of services to healthcare professionals and to our customers, including contact hour and peer-based training courses; information, training tools and videos on infection control and reprocessing; authorized repair services and support on Olympus equipment; and financing solutions to help your facility with acquisition of new capital equipment, accessories, and maintenance plans.
Need Help?
Cleaning, Disinfection & Sterilization
The proper cleaning, disinfection, and sterilization of Olympus equipment is equally as important as their proper use. 
Olympus Training & Proper Use
Olympus offers a variety of educational opportunities for medical and surgical healthcare professionals. 
Peer-To-Peer Training
Our Professional Education Program provides multiple types of peer-to-peer training in order to meet the specific educational needs of physicians and nurses focused on the safe and effective use of Olympus products.
Olympus University
Olympus Professional Education also offers training programs through Olympus University (OU). Geared toward nurses, reprocessing technicians and biomeds, many of the OU courses are available for nursing contact hour continuing education credit.
Visit Olympus University
---