PolyLoop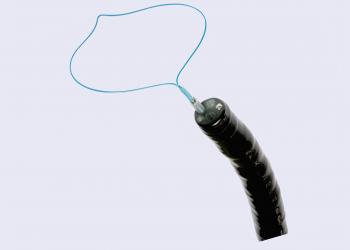 Loop Ligating Device
PolyLoop
The single-use Olympus PolyLoop Ligation Device is preassembled and ready to use for safe, simple, and effective endoscopic ligation. The proprietary loop design snares and securely ligates small and large polyps, minimizing the risk of sudden bleeding during polypectomy. A loop cutter is required for use with the PolyLoop for emergency situations.
---
Key Benefits
Convenient preassembly: The nylon loop is pre-mounted on the sheath.
Unassisted operation: Ligation is easily performed by just retracting the loop's handle at the scope's instrument channel port.
Minimal tissue damage: Hemostasis is achieved by simple ligation with the nylon loop, minimizing damage to tissue. The nylon loop remains in place for a period of time, eventually passing out of the GI tract naturally. 
Product Support
Olympus Training & Proper Use
Olympus offers a variety of educational opportunities for medical and surgical healthcare professionals. 
Peer-To-Peer Training
Our Professional Education Program provides multiple types of peer-to-peer training in order to meet the specific educational needs of physicians and nurses focused on the safe and effective use of Olympus products.
Olympus University
Olympus Professional Education also offers training programs through Olympus University (OU). Geared toward nurses, reprocessing technicians and biomeds, many of the OU courses are available for nursing contact hour continuing education credit.
Visit Olympus University
---