PolyLoop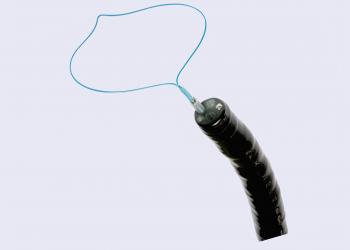 Loop Ligating Device
PolyLoop
The single-use Olympus PolyLoop Ligation Device is preassembled and ready to use for safe, simple, and effective endoscopic ligation. The proprietary loop design snares and securely ligates small and large polyps, minimizing the risk of sudden bleeding during polypectomy. A loop cutter is required for use with the PolyLoop for emergency situations.
---
Key Benefits
Convenient preassembly: The nylon loop is pre-mounted on the sheath.
Unassisted operation: Ligation is easily performed by just retracting the loop's handle at the scope's instrument channel port.
Minimal tissue damage: Hemostasis is achieved by simple ligation with the nylon loop, minimizing damage to tissue. The nylon loop remains in place for a period of time, eventually passing out of the GI tract naturally. 
Product Support
Olympus Training & Proper Use
Olympus Continuum, is a comprehensive platform of education and training experiences led by healthcare experts from around the world. Learning opportunities include hands-on courses, online learning, lectures and workshops, peer-to-peer training, accredited continuing education, and on-demand learning.
For more information: Olympus Continuum Video
---