Wide-Eye™ Polyp Trap (ET1111)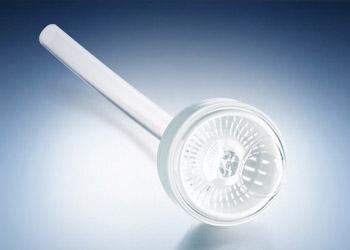 Polyp Traps
Wide-Eye™ Polyp Trap (ET1111)
The single-use Wide-Eye™ polyp trap features a unique transparent lid design and upright positioning that provides enhanced visualization and verification of trapped polyp. 
---
Key Benefits
Enhanced visualization: Magnifying piece and transparent lid allow for visualization and verification of trapped polyp.
Convenient positioning: Strengthened tubing allows for trap to be positioned upright for direct monitoring of sample collection.
Easy installation: In-line design allows for simple one-step installation and re-attachment.
Product Support
Design: Single chamber (ET1111)
Package: Individually packaged, 50 per box
Use: Single use
For detailed specifications please contact customer service for assistance.
Olympus Training & Proper Use
Olympus offers a variety of educational opportunities for medical and surgical healthcare professionals. 
Peer-To-Peer Training
Our Professional Education Program provides multiple types of peer-to-peer training in order to meet the specific educational needs of physicians and nurses focused on the safe and effective use of Olympus products.
Olympus University
Olympus Professional Education also offers training programs through Olympus University (OU). Geared toward nurses, reprocessing technicians and biomeds, many of the OU courses are available for nursing contact hour continuing education credit.
Visit Olympus University
---