PKS Plasma J-Hook (956010PC)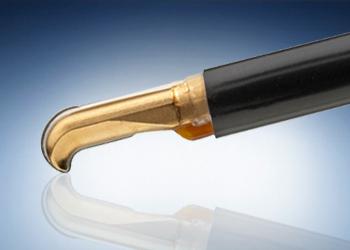 Handpiece
PK Instruments
PKS Plasma J-Hook (956010PC)
The PKS Plasma J-Hook provides a rapid and precise hemostatic cut and excellent coagulation in one instrument.
---
Key Benefits
Reduced OR time: Offering simultaneous cut and coagulation, the PKS Plasma J-Hook reduces time in the operating room.
Procedural efficiency: The instrument's rapid hemostatic cutting improves procedural efficiency.
Effective tip design: The unique tip design is excellent for skeletonization and mobilization.
---
Product Support
PKS PLASMA J-HOOK
For use with PK G400 Generator only
956000PC*: PKS Plasma J-Hook, with cord, 5 mm, 15 cm
956005PC*: PKS Plasma J-Hook, with cord, 5 mm, 24 cm
956010PC*: PKS Plasma J-Hook, with cord, 5 mm, 33 cm
956015PC*: PKS Plasma J-Hook, with cord, 5 mm, 45 cm
* Supplied sterile, single-use, disposable
PK G400 GENERATOR
777000: G400 Generator with 9-pin inputs
744010: PK  footswitch
560085-002: Generator power cord
710003: Dual footswitch connector cable
700000: PKS and G400 Generator cart
Olympus Training & Proper Use
Olympus Continuum, is a comprehensive platform of education and training experiences led by healthcare experts from around the world. Learning opportunities include hands-on courses, online learning, lectures and workshops, peer-to-peer training, accredited continuing education, and on-demand learning.
For more information: Olympus Continuum Video