PK Technology G400 Generator (777000)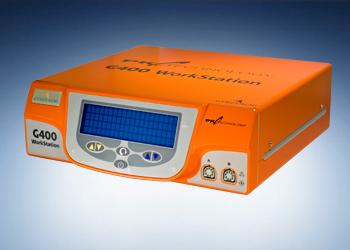 Advanced Energy
PK Technology G400 Generator (777000)
The PK Technology G400 Generator delivers a proprietary pulsed RF energy waveform. This allows creation of a broad range of tissue effects for a multitude of surgical applications, giving the surgeon optimal, precise control.
---
Key Benefits
Consistent tissue effect: The G400 Generator's powerful, instant energy delivery provides complete and consistent tissue effect.
Effects based on tissue resistance: Advanced Bipolar PK Technology delivers a proprietary, pulsing ultra-low voltage (110 VRMS) and high-current RF energy waveform to create a broad range of tissue effects based on tissue resistance. Pulsed RF energy allows the tissue and device tip to cool during the "energy off" phase, minimizing sticking and charring.
Easy to use: "Plug-and-play" PK Technology instruments require little set up for operating room staff.
---
Product Support
PK G400 GENERATOR
777000: G400 Generator with 9-pin inputs
744010: PK  footswitch
560085-002: Generator power cord
710003: Dual footswitch connector cable
700000: PKS and G400 Generator cart
Olympus® Service & Repair
Olympus offers a broad range of services to healthcare professionals and to our customers, including contact hour and peer-based training courses; information, training tools and videos on infection control and reprocessing; authorized repair services and support on Olympus equipment; and financing solutions to help your facility with acquisition of new capital equipment, accessories, and maintenance plans.
Need Help?
Olympus Training & Proper Use
Olympus Continuum, is a comprehensive platform of education and training experiences led by healthcare experts from around the world. Learning opportunities include hands-on courses, online learning, lectures and workshops, peer-to-peer training, accredited continuing education, and on-demand learning.
For more information: Olympus Continuum Video