PKS PlasmaSORD (962000PK)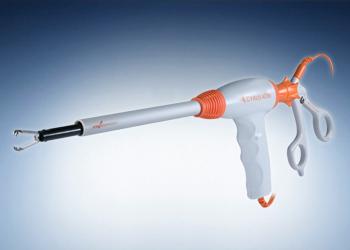 Handpiece
Morcellators
PKS PlasmaSORD (962000PK)
The PKS PlasmaSORD bipolar morcellator is the first completely bladeless solid organ removal device.
Please be advised that the PKS PlasmaSORD labeling has recently been revised to include the below information:
WARNING: Uterine tissue may contain unsuspected cancer. The use of laparoscopic power morcellators during fibroid surgery may spread cancer, and decrease the long-term survival of patients. This information should be shared with patients when considering surgery with the use of these devices.
CONTRAINDICATION: Laparoscopic power morcellators are contraindicated in gynecologic surgery in which the tissue to be morcellated is known or suspected to contain malignancy.
CONTRAINDICATION: Laparoscopic power morcellators are contraindicated for removal of uterine tissue containing suspected fibroids in patients who are:
peri- or post-menopausal, or
candidates for en bloc tissue removal, for example, through the vagina or via a mini-laparotomy incision.
---
Key Benefits
Efficient bipolar energy: Efficient bipolar energy to morcellate tissue instead of sharp, spinning blades.
Ergonomic design: A lightweight, ergonomic handle designed to reduce hand fatigue in prolonged cases.
Economical solution: Only one PKS PlasmaSORD device is required per case, thanks to its durable design.
---
Product Support
PKS PLASMASORD
For use with PK G400 Generator only
962000PK: PKS PlasmaSORD, with cord
PK G400 GENERATOR
777000: G400 Generator with 9-pin inputs
744010: PK  footswitch
560085-002: Generator power cord
710003: Dual footswitch connector cable
Olympus Training & Proper Use
Olympus offers a variety of educational opportunities for medical and surgical healthcare professionals. 
Peer-To-Peer Training
Our Professional Education Program provides multiple types of peer-to-peer training in order to meet the specific educational needs of physicians and nurses focused on the safe and effective use of Olympus products.
Olympus University
Olympus Professional Education also offers training programs through Olympus University (OU). Geared toward nurses, reprocessing technicians and biomeds, many of the OU courses are available for nursing contact hour continuing education credit.
Visit Olympus University