HALO PKS Cutting Forceps (HACF0533)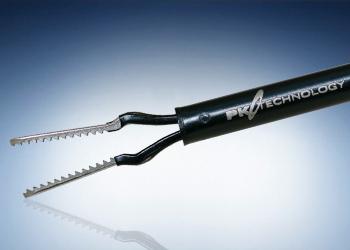 Handpiece
PK Instruments
HALO PKS Cutting Forceps (HACF0533)
The HALO (Hand Activation for Laparoscopy & Open) PKS Cutting Forceps offer exceptional performance and versatility across a wide variety of procedures. The unique, five-in-one design grasps, dissects, coagulates, transects, and retracts tissue all in one easy-to-use device.
---
Key Benefits
Ergonomic cut blade trigger: The trigger is ergonomically positioned to provide easier access with one hand to minimize fatigue.
Hand activated coagulation button: The easy-to-access hand activated coagulation button eliminates the need for a foot pedal and puts control right in the surgeon's hand.
Fingertip rotation control: Rotation wheel provides fingertip control for up to 330° of rotation.
---
Product Support
HALO PKS CUTTING FORCEPS
For use with PK G400 Generator only
HACF0533: HALO PKS™ Cutting Forceps 5 mm, 33 cm
PK G400 GENERATOR
777000: G400 Generator with 9-pin inputs
744010: PK  footswitch
560085-002: Generator power cord
710003: Dual footswitch connector cable
700000: PKS and G400 Generator cart
Olympus Training & Proper Use
Olympus Continuum, is a comprehensive platform of education and training experiences led by healthcare experts from around the world. Learning opportunities include hands-on courses, online learning, lectures and workshops, peer-to-peer training, accredited continuing education, and on-demand learning.
For more information: Olympus Continuum Video