PKS Needle (950000PK)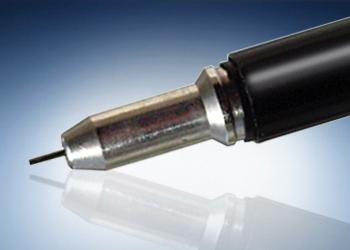 Handpiece
PK Instruments
PKS Needle (950000PK)
The PKS Needle for laparoscopic surgery enables the surgeon to precisely cut while preserving surrounding tissues.
---
Key Benefits
Cut depth control: The adjustable needle electrode allows the surgeon to adjust the depth of the cut.
Tissue dissection: An extendable outer sheath allows for tissue dissection and protects the electrode while it is passing through the trocar.
Atraumatic design: A tapered hub minimizes damage to tissue.
---
Product Support
PKS NEEDLE
For use with PK G400 Generator only
950000PK*: PKS Needle, with cord, 5 mm, 33 cm
For use with PK SuperPulse Generator only
3400PK*: PKS Needle, 5 mm, 33 cm
3900: PK reusable connector cable (3-pin)
* Supplied sterile, single-use, disposable
PK G400 GENERATOR
777000: G400 Generator with 9-pin inputs
744010: PK  footswitch
560085-002: Generator power cord
710003: Dual footswitch connector cable
700000: PKS and G400 Generator cart
PK SUPERPULSE GENERATOR
744000: PK SuperPulse Generator 110 - 220 V, 60 Hz
744010: PK footswitch
710003: Dual footswitch connector cable
3900: PK reusable connector cable (3-pin)
3905: PK reusable connector cable (5-pin)
Olympus Training & Proper Use
Olympus offers a variety of educational opportunities for medical and surgical healthcare professionals. 
Peer-To-Peer Training
Our Professional Education Program provides multiple types of peer-to-peer training in order to meet the specific educational needs of physicians and nurses focused on the safe and effective use of Olympus products.
Olympus University
Olympus Professional Education also offers training programs through Olympus University (OU). Geared toward nurses, reprocessing technicians and biomeds, many of the OU courses are available for nursing contact hour continuing education credit.
Visit Olympus University