HookKnife Electrosurgical Knife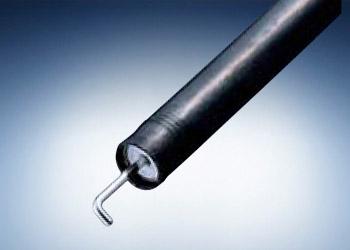 Knives
HookKnife Electrosurgical Knife
The single-use Olympus HookKnife™ electrosurgical knife features a rotatable, L-shaped hook that allows cutting in horizontal and vertical directions. It can be used for both incisions and dissections, and it is ideal for cutting fibrous tissue.
---
Key Benefits
L-shaped hook at distal end: The L-shaped cutting wire is designed to hook tissue and pull it away from the mucosa to minimize the risk of perforation.
Turn and lock design: The turn and lock feature is simple to deploy and ensures the cutting wire is locked at the desired position during every procedure.
Choice of working lengths: A choice of lengths allows the physician to chose a working length based on procedural technique or lesion location.
Product Support
MODELS KD-620LR / KD-620UR
Channel Diameter: 2.8 mm
Working Length: 165 cm / 230 cm
Cutting Knife Length: 4.5 mm
Cutting Knife Diameter: 0.4 mm
Hook Length: 1.3 mm
Use: Single use
For detailed specifications, please contact customer service for assistance.
Olympus Training & Proper Use
Olympus Continuum, is a comprehensive platform of education and training experiences led by healthcare experts from around the world. Learning opportunities include hands-on courses, online learning, lectures and workshops, peer-to-peer training, accredited continuing education, and on-demand learning.
For more information: Olympus Continuum Video
---