EndoWorks
EndoWorks® 7 Endoscopy Information Management Solution
EndoWorks Update
On April 1, 2015, after 26 years of development and support of the EndoWorks software platform, Olympus announced it will be discontinuing the product, effective March 31, 2018. This announcement outlined a three year plan to assist Olympus customers with their ongoing support requirements and migration options to ensure a smooth transition.
Significant milestones have been achieved since the announcement was made, including:
Sales of new EndoWorks sites have ended, effective March 31, 2015
Sales of EndoWorks for room adds-ons, HL7 interface options, and EndoIntelligence have ended, effective February 1, 2016
Critical bug fixes in support of EndoWorks have ended, effective April 1, 2017
All sales of EndoWorks have ended effective December 31, 2017
Installation of all outstanding orders concluded, effective February 15, 2018
EndoWorks on-site and remote support discontinued and Software Maintenance Agreements terminated, effective March 31, 2018
Olympus has been pursuing initiatives to better serve EndoWorks users including the release of a data migration tool to transfer EndoWorks records into an Olympus Preferred Vendor's software and updating its website to ensure communications are current for EndoWorks users.
EndoWorks Discontinuation Timeline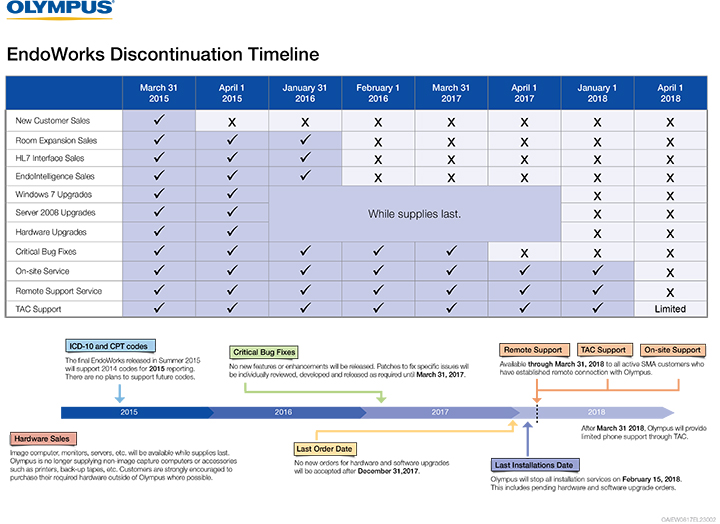 CLICK HERE to view a larger image of the above timeline.
Olympus Preferred Vendors
Prior to the EndoWorks discontinuation announcement, Olympus performed an extensive vetting process to determine which industry leaders had the technical competence, history of service, and solutions to provide EndoWorks users with the best possible outcomes during an EndoWorks conversion process.
Olympus has selected two preferred vendors to assist and guide current EndoWorks users during the migration process: gMed™, a Modernizing Medicine Company for gGastro Suite and Wolters Kluwer, which offers ProVation® MD for Gastroenterology. These preferred vendors are industry leaders focused on procedure documentation, image capture & management, and HL7 integration solutions with EMRs.
Based on these qualifications, Olympus preferred vendors are provided exclusive industry insight into the EndoWorks platform to ensure they are capable of providing the services and expertise needed to partner with EndoWorks users. These vendors are also granted exclusive rights to the EndoWorks Data Migration Tool, offered only by Olympus.
gMed™ A Modernizing Medicine Company
gMed, a Modernizing Medicine company, provides gastroenterologists with a fully integrated platform consisting of an electronic health record (EHR) system, Endoscopy Report Writer, practice management solution, patient portal, data analytics and revenue cycle management services.
gMed, the preferred vendor among gastroenterologists, received Black Book's Top Ambulatory EHR award for six consecutive years.
gGastro is a gastroenterology-specific EHR system built for gastroenterologists, used by more than 4,500 physicians nationwide, in over 350 ambulatory surgery centers (ASCs) and hospitals, plus 200 private offices. gMed's endoscopy solutions are used in over 300 ASCs and hospitals across the country, including teaching hospitals. To find the right solution for you, visit www.gmed.com or call 888-577-8801.

ProVation® Medical
Provation® is the premier software provider of intelligent procedure documentation and coding solutions improving clinical productivity and reimbursement (Provation® MD), equipping physicians and administrators with evidence-based clinical decision support solutions to optimize order sets and care plans (Provation® Order Sets) and providing evidence-based content for structured clinical documentation and coding embedded within the EHR (Provation® Clinic Note). Provation is trusted by leading physicians globally, serving approximately 1,500 hospitals and 1,000 Ambulatory Surgery Centers (ASCs), including 16 of the top 20 U.S. hospitals for gastroenterology (GI) and GI surgery. Provation is headquartered in Minneapolis, MN and is owned by Clearlake Capital Group, L.P. More information is available at http://www.provationmedical.com/, or call 888.952.6673.
Important note on EVIS EXERA III CV-190 Processor Upgrades
Olympus recommends that all EndoWorks users planning to update their endoscope processor equipment to an EVIS EXERA III 190 series platform first confirm the EndoWorks' software version. Users who do not have the minimum version and patch level (7.42 Patch 19 or higher) are required to update their EndoWorks software to a supported version before interoperability with the 190 series platform can be achieved. This may require the purchase of new computers to meet the minimum system requirements of the supported EndoWorks version.
Contact your Olympus representative to determine if your EndoWorks systems meet these requirements.
Olympus Support
Olympus is dedicated to providing its users complete life cycle support for EndoWorks. The following support options will all be available through March 31, 2018. Support types that will be provided either as part of a service contract or on a billable support basis.
Olympus Technical Assistants Center (800) 401-1086
Olympus onsite and remote support will be available to all active contracted users who have established remote connection through March 31, 2018.
Olympus will not be providing any more critical bug fixes in support of EndoWorks, effective April 1, 2017.
Updates & Policies
To review the most recent EndoWorks Updates & Policies CLICK HERE.
Resources