Distal Attachments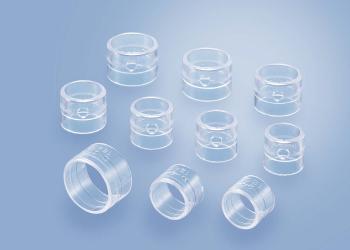 Distal Attachment
Distal Attachments
Single-use Olympus Distal Attachments are made of colorless transparent material to facilitate observation of tissue in a clear, unclouded field of view. The attachments are designed to retain a suitable distance between the distal tip of the scope and lumen, and a side hole allows fluid to drain to maintain a clear endoscopic view.
---
Key Benefits
Optimal field of view: By maintaining the appropriate distance between the endoscope tip and observation site, the distal attachment helps maintain the optimal field of view. The addition of a convenient side hole on the sleeve of the 4 mm working distance models ensures that any fluid inside can be drained at all times.
Rounded edge is easy on tissue: The edge of the distal attachment has a round shape to reduce damage to tissue.
Versatile lineup for OLYMPUS GI endoscopes: Ten different distal attachments are available, ensuring that you can find one to match the outer diameter of your OLYMPUS endoscope. 
Models dedicated to magnification endoscopes: Three of the distal attachment models are specifically designed for use with magnification endoscopes, making it easier to keep an image in focus and achieve correct depth of field.
Sterile, single-use, soft design
Product Support
Olympus Distal Attachments are available in a wide array of diameters and sizes and come sterile packaged with 10 per box.
For detailed specifications please contact customer service for assistance.
Olympus Training & Proper Use
Olympus offers a variety of educational opportunities for medical and surgical healthcare professionals. 
Peer-To-Peer Training
Our Professional Education Program provides multiple types of peer-to-peer training in order to meet the specific educational needs of physicians and nurses focused on the safe and effective use of Olympus products.
Olympus University
Olympus Professional Education also offers training programs through Olympus University (OU). Geared toward nurses, reprocessing technicians and biomeds, many of the OU courses are available for nursing contact hour continuing education credit.
Visit Olympus University
---