EVIS EXERA III (GIF-H190)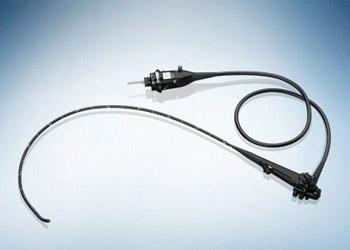 Gastroscope
HD Video
EVIS EXERA III (GIF-H190)
The EVIS EXERA III GIF-H190 gastroscope provides great image quality and maneuverability in a slim design. HDTV clarity along with Narrow Band Imaging (NBI) deliver enhanced visualization and a water jet channel helps enable clearer observation during procedures.
---
Key Benefits
Improved maneuverability: With an outer diameter measuring just 9.2 mm, the GIF-H190 provides improved maneuverability in a slim design compared to previous generations.
Brighter, more powerful imaging: HDTV and Narrow Band Imaging (NBI) enable closer, more detailed examination and observation. NBI now delivers significantly increased brightness, providing twice the viewable distance compared to earlier scope models.
Clearer procedural views: An integrated water jet channel helps maintain clear views during hemostasis or complex therapeutic procedures.
Easier setup: A new waterproof connector design minimizes the effort required for setup prior to and in between cases and eliminates the need for a water-resistant cap.
Product Support
Outer Diameter Insertion Tube:
Olympus® Service & Repair
Olympus offers a broad range of services to healthcare professionals and to our customers, including contact hour and peer-based training courses; information, training tools and videos on infection control and reprocessing; authorized repair services and support on Olympus equipment; and financing solutions to help your facility with acquisition of new capital equipment, accessories, and maintenance plans.
Need Help?
Cleaning, Disinfection & Sterilization
The proper cleaning, disinfection, and sterilization of Olympus equipment is equally as important as their proper use.
Olympus Training & Proper Use
Olympus Continuum, is a comprehensive platform of education and training experiences led by healthcare experts from around the world. Learning opportunities include hands-on courses, online learning, lectures and workshops, peer-to-peer training, accredited continuing education, and on-demand learning.
For more information: Olympus Continuum Video
---