CO2 Regulation Unit (UCR)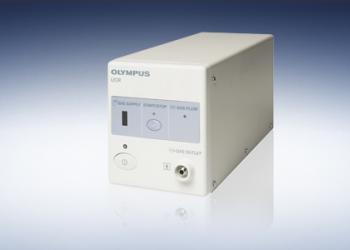 CO2 Insufflators
CO2 Regulation Unit (UCR)
The UCR CO2 Regulation Unit provides intra-luminal insufflation using carbon dioxide to minimize bowel distension and reduce patient discomfort. CO2 insufflation is becoming the standard of care for GI colonoscopy, and the UCR is a simple-to-operate, compact device that can be operated with no additional technical support.
---
Key Benefits
Reduced patient discomfort: CO

2

is absorbed by the body 150 times faster than air, reducing patient discomfort due to intestinal distension during and after endoscopic procedures.
Easy operation and set up: The UCR features a single button to start and stop the flow of CO

2

on the front panel. It is easily set up by connecting to a gas cylinder with a dedicated cylinder hose or by connecting directly to the hospital's medical gas supply.
Compact size: The UCR is small and compact, fitting easily into a standard endoscopy workstation.
Product Support
Control Button: Simple start/stop button on front panel efficiently controls gas flow.
Gas Connection: Dedicated cylinder hose allows easy exchange of carbon dioxide cylinders, or unit may be connected to hospital medical gas supply.
Size: Compact size and lightweight at just 4.9 kg to easily fit on existing endoscopy station.
Flow Rate: High gas flow rates allow rapid insufflation when required.
Olympus® Service & Repair
Olympus offers a broad range of services to healthcare professionals and to our customers, including contact hour and peer-based training courses; information, training tools and videos on infection control and reprocessing; authorized repair services and support on Olympus equipment; and financing solutions to help your facility with acquisition of new capital equipment, accessories, and maintenance plans.
Need Help?
Cleaning, Disinfection & Sterilization
The proper cleaning, disinfection, and sterilization of Olympus equipment is equally as important as their proper use.
Olympus Training & Proper Use
Olympus Continuum, is a comprehensive platform of education and training experiences led by healthcare experts from around the world. Learning opportunities include hands-on courses, online learning, lectures and workshops, peer-to-peer training, accredited continuing education, and on-demand learning.
For more information: Olympus Continuum Video