EndoJaw Disposable Biopsy Forceps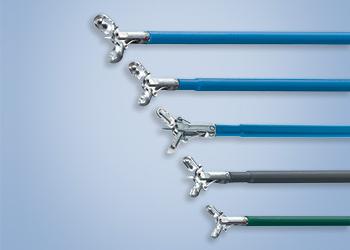 Biopsy Forceps
EndoJaw Disposable Biopsy Forceps
Olympus has added the EndoJaw Large to the EndoJaw Biopsy Forceps portfolio!
We offer an extensive range of single-use biopsy forceps. Featuring superior construction and delivering reliable performance, EndoJaw devices are designed to work seamlessly with a broad array of Olympus precision endoscopes.
---
Key Benefits
Precision performance: A double-step blade ensures clean-edged specimens while the sheath design delivers smooth insertion.
Easier targeting: The forceps' swing jaw construction allows for easier placement and targeting.
Complete Comprehensive Lineup: The forceps' wide variety of configurations aid your ability to choose forceps specific to your procedural needs.
Large capacity version available for 2.8mm scope channel (EndoJaw Large)
Product Support
Olympus EndoJaw Disposable Biopsy Forceps are available in sizes for 2.0, 2.8, 3.2 and 3.7 mm  scope channels in a variety of configurations. The EndoJaw line also includes Hot Biopsy Forceps models for 2.8 mm scope channels.
For detailed specifications, please contact customer service for assistance.
Olympus Training & Proper Use
Olympus Continuum, is a comprehensive platform of education and training experiences led by healthcare experts from around the world. Learning opportunities include hands-on courses, online learning, lectures and workshops, peer-to-peer training, accredited continuing education, and on-demand learning.
For more information: Olympus Continuum Video
---