EVIS EXERA II (CF-H180AL/I)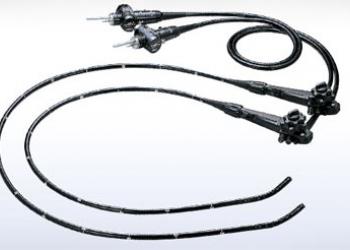 Colonoscope
Video Colonoscope
EVIS EXERA II (CF-H180AL/I)
The EVIS EXERA II CF-H180AL/I colonovideoscope is HDTV-compatible, delivering the highest-possible resolution and image quality. It comes equipped with an impressive suite of advanced functions, including Narrow Band Imaging (NBI) to enhance visualization of mucosal tissue and capillary structures. A Close Focus function produces the same effect as electronic magnification simply by bringing the scope tip close to the observation area. A generous 3.7 mm diameter channel (12.8 mm diameter insertion tube) accommodates a wide range of endoscopic devices while maintaining suction capability.
---
Key Benefits
Enhance visualization: Narrow Band Imaging™ (NBI) combined with HDTV and Close Focus enhances observation of the mucosa. The extra-wide 170° field of view enables comprehensive observation of the colon and may facilitate a reduction in miss rates, shorter examination times, and enhanced procedural efficiency. 
Easy mucosal cleaning for better observation: An auxiliary water function can be combined with a dedicated flushing pump to enable removal of mucus and clots in the colon at the touch of a switch on the scope or on the footswitch unit.
Improved handling: The CF-H180AL/I features innoflex™ Variable Stiffness technology, enabling adjustment of the insertion tube flexibility to match the conditions and contours of the colon.
Product Support
Outer Diameter Insertion Tube:
Olympus® Service & Repair
Olympus offers a broad range of services to healthcare professionals and to our customers, including contact hour and peer-based training courses; information, training tools and videos on infection control and reprocessing; authorized repair services and support on Olympus equipment; and financing solutions to help your facility with acquisition of new capital equipment, accessories, and maintenance plans.
Need Help?
Cleaning, Disinfection & Sterilization
The proper cleaning, disinfection, and sterilization of Olympus equipment is equally as important as their proper use.
Olympus Training & Proper Use
Olympus Continuum, is a comprehensive platform of education and training experiences led by healthcare experts from around the world. Learning opportunities include hands-on courses, online learning, lectures and workshops, peer-to-peer training, accredited continuing education, and on-demand learning.
For more information: Olympus Continuum Video
---