Diagnostic Bronchoscope (BF-Q190)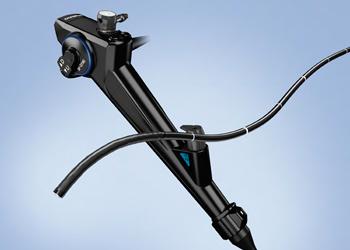 Bronchoscope
Video Bronchoscope
Diagnostic Bronchoscope (BF-Q190)
The slim, versatile design of the BF-Q190 bronchoscope, powered by EVIS EXERA III, advances diagnostic bronchoscopy with outstanding handling, improved functionality, and unmatched image quality.
---
Key Benefits
Rotary Function: Insertion tube rotation of up to 120° left and right may effectively reduce hand rotation* and supports easier insertion and positioning of endoscopic devices.
210° Tip Angulation: The wide angulation range can be maintained even when an endoscopic device is inserted, making it easier to access difficult-to-reach areas.
High Resolution Image: Excellent image quality comparable to our previous flagship model but with a thinner insertion tube and distal tip design.
*When compared to the BF-180 series.
---
Product Support
Outer Diameter Insertion Tube:
Max Angulation Right:
120° with Rotary Function
Max Angulation Left:
120° with Rotary Function
Olympus Service & Repair
Olympus offers a broad range of services to healthcare professionals and to our customers, including contact hour and peer-based training courses; information, training tools and videos on infection control and reprocessing; authorized repair services and support on Olympus equipment; and financing solutions to help your facility with acquisition of new capital equipment, accessories, and maintenance plans.
Need Help?
Cleaning, Disinfection & Sterilization
The proper cleaning, disinfection, and sterilization of Olympus equipment is equally as important as their proper use. 
Olympus Training & Proper Use
Olympus offers a variety of educational opportunities for medical and surgical healthcare professionals. 
Peer-To-Peer Training
Our Professional Education Program provides multiple types of peer-to-peer training in order to meet the specific educational needs of physicians and nurses focused on the safe and effective use of Olympus products.
Olympus University
Olympus Professional Education also offers training programs through Olympus University (OU). Geared toward nurses, reprocessing technicians and biomeds, many of the OU courses are available for nursing contact hour continuing education credit.
Visit Olympus University