Biopsy Forceps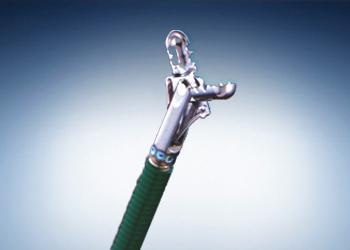 Forceps
Biopsy Forceps
Olympus offers a complete line of high-performing, disposable EndoJaw biopsy forceps. They are available in sizes that will fit down to a 2.0 mm scope channel and are designed for easy positioning to the target biopsy site. A full line of reusable forceps is also available to fit down to a 1.2 mm scope channel size.
---
Key Benefits
Special designed blade: The blade delivers sharp cutting performance to ensure clean-edged specimens.
Proprietary sheath design: The sheath delivers the optimal amount of flexibility for smooth insertion.
Optimized design: EndoJaw forceps are specially designed for Olympus bronchoscopes to ensure minimal channel damage during forceps insertion.
Unique swing jaw: The swing jaw mechanism aids tangential biopsies in narrow lumens.
Product Support
| | | | |
| --- | --- | --- | --- |
| Product Description | Product Codes | Scope Channel | Cup Opening Size |
| Disposable EndoJaw | FB-211D.A/221D.A/231D.A/241D.A | 2.0 mm | 5.0 mm |
| Reusable Biopsy Forceps | FB-35C-1/55CR-1 | 2.8 mm | 7.3 mm |
| Reusable Biopsy Forceps | FB-20C-1/22C-1 | 2.6 mm | 5.0 mm |
| Reusable Biopsy Forceps | FB-19C-1/19CR-1/34C-1/21C-1/15C-1/52C-1 | 2.0 mm | Multiple (please refer to catalog) |
| Reusable Biopsy Forceps | FB-56D-1 | 1.2 mm | 7.3 mm |
Olympus Training & Proper Use
Olympus offers a variety of educational opportunities for medical and surgical healthcare professionals. 
Peer-To-Peer Training
Our Professional Education Program provides multiple types of peer-to-peer training in order to meet the specific educational needs of physicians and nurses focused on the safe and effective use of Olympus products.
Olympus University
Olympus Professional Education also offers training programs through Olympus University (OU). Geared toward nurses, reprocessing technicians and biomeds, many of the OU courses are available for nursing contact hour continuing education credit.
Visit Olympus University