Cytology Brushes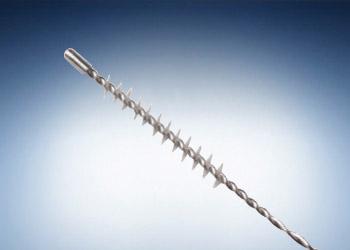 Brushes
Cytology Brush
Cytology Brushes
Olympus offers a wide variety of disposable cytology brushes, designed for optimal specimen collection and easy insertion into the bronchoscope. The cytology brushes are available in sizes to fit down to a 1.2 mm scope channel.
---
Key Benefits
Ideal bristle design: Olympus cytology brushes offer the ideal brush hardness with thinner bristles for optimum results.
Thicker control wire: A thicker control wire provides increased warp resistance, improves insertion ability, and enables easier brushing.
Integrated handle: The integrated brush handle provides tactile control for reliable handling.
Metal tip: The brush's metal tip offers good visibility under fluoroscopy.
Product Support
| | | | |
| --- | --- | --- | --- |
| Product Description | Product Codes | Scope Channel | Brush Length / Outer Diameter |
| Disposable: Pulmonary with Covered Sheath | BC-202D-1210/BC-202D-2010/BC-202D-3010/BC-202D-5010/BC-203D-2006 | 1.2 mm - 2.0 mm | Multiple (please refer to catalog) |
| Disposable: Pulmonary | BC-201C-1006 | 1.2 mm | 6.0 mm/1.0 mm |
Olympus Training & Proper Use
Olympus offers a variety of educational opportunities for medical and surgical healthcare professionals. 
Peer-To-Peer Training
Our Professional Education Program provides multiple types of peer-to-peer training in order to meet the specific educational needs of physicians and nurses focused on the safe and effective use of Olympus products.
Olympus University
Olympus Professional Education also offers training programs through Olympus University (OU). Geared toward nurses, reprocessing technicians and biomeds, many of the OU courses are available for nursing contact hour continuing education credit.
Visit Olympus University