Cytology Brushes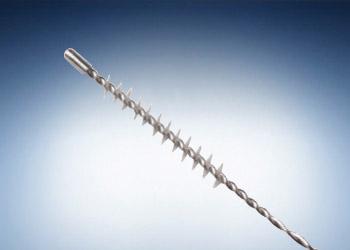 Brushes
Cytology Brush
Cytology Brushes
Olympus offers a wide variety of disposable cytology brushes, designed for optimal specimen collection and easy insertion into the bronchoscope. The cytology brushes are available in sizes to fit down to a 1.2 mm scope channel.
---
Key Benefits
Ideal bristle design: Olympus cytology brushes offer the ideal brush hardness with thinner bristles for optimum results.
Thicker control wire: A thicker control wire provides increased warp resistance, improves insertion ability, and enables easier brushing.
Integrated handle: The integrated brush handle provides tactile control for reliable handling.
Metal tip: The brush's metal tip offers good visibility under fluoroscopy.
Product Support
| | | | |
| --- | --- | --- | --- |
| Product Description | Product Codes | Scope Channel | Brush Length / Outer Diameter |
| Disposable: Pulmonary with Covered Sheath | BC-202D-1210/BC-202D-2010/BC-202D-3010/BC-202D-5010/BC-203D-2006 | 1.2 mm - 2.0 mm | Multiple (please refer to catalog) |
| Disposable: Pulmonary | BC-201C-1006 | 1.2 mm | 6.0 mm/1.0 mm |
Olympus Training & Proper Use
Olympus Continuum, is a comprehensive platform of education and training experiences led by healthcare experts from around the world. Learning opportunities include hands-on courses, online learning, lectures and workshops, peer-to-peer training, accredited continuing education, and on-demand learning.
For more information: Olympus Continuum Video