PROTECH Flexible Endoscope Tip Protector
Reprocessing
PROTECH Flexible Endoscope Tip Protector
Endoscopes are often damaged while being transported and stored. The PROTECH Flexible Endoscope Tip Protector provides a protective barrier around the distal tip of endoscopes to:
Minimize contact with other objects
Help prevent distal tip damage
PROTECH promotes infection control by:
Featuring removable Clean/Dirty tabs that indicate scope reprocessing status
Enabling airflow and channel drying with an open design
Providing a sterile, disposable endoscope protection solution
---
Key Benefits
Distal Tip Protection
Protects endoscope distal tip during transport and storage
Reduces risk of endoscope damage
Helps increase scope availability
Infection Prevention
Mitigates cross contamination risk by offering:

A sterile solution that is manufactured in a class 7 clean room

A single use/disposable design

Clean/dirty break-away tab identifiers

Promotes effective drying of endoscope and endoscope channels
CDC: Store the endoscope in a way that prevents recontamination and promotes drying.1
Flexibility
Available in small and large options
Compatible with any flexible endoscope meeting distal tip diameter specifications
Increased Efficiency
Fewer damaged endoscopes provide improved workflow
Easy to Use
Separate colors allow for quick size identification
Ratchet system allows for easy placement and removal
Removable tabs indicate scope reprocessing status
Single use/disposable design eliminates the need to clean PROTECH
1 Guideline for Disinfection and Sterilization in Healthcare Facilities, 2008. Centers for Disease Control and Prevention.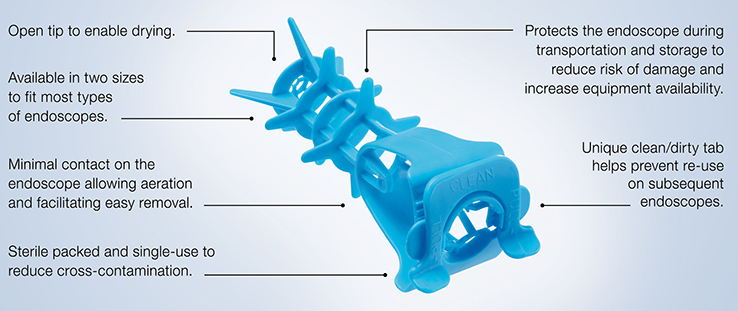 Product Support
PROTECH Small- Fits 2.7 - 8mm diameter scopes
PROTECH Large - Fits 8.7 -14.7mm diameter scopes
100 units per box
Service and Repair:
Because PROTECH protects endoscopes from damage, users may realize a repair cost savings and increased endoscope availability.
Olympus Service & Repair
Olympus offers a broad range of services to healthcare professionals and to our customers, including contact hour and peer-based training courses; information, training tools and videos on infection control and reprocessing; authorized repair services and support on Olympus equipment; and financing solutions to help your facility with acquisition of new capital equipment, accessories, and maintenance plans.
Need Help?
---