PROTECH™ Flexible Endoscope Tip Protector
Reprocessing
PROTECH™ Flexible Endoscope Tip Protector
The PROTECH Flexible Endoscope Tip Protector is sterile and designed to protect the structural integrity of the distal tip of flexible endoscopes during transport and storage.
PROTECH Flexible Endoscope Tip Protector provides protection by:
Creating a protective cage-like barrier around the endoscope distal tip
Minimizing contact with other objects
Helping to prevent distal tip damage
Preventing the endoscope distal tip from protruding through the tip protector
PROTECH Flexible Endoscope Tip Protector promotes infection control by:
Featuring removable Clean/Dirty tabs that indicate scope reprocessing status
Enabling airflow and channel drying with an open design
Providing a sterile, disposable endoscope protection solution
---
Key Benefits
Distal Tip Protection Designed to:
Protect the endoscope distal tip during transport, drying and storage
Reduce risk of endoscope distal tip damage
Increase endoscope availability
Infection Prevention
Designed to mitigate cross contamination risk by providing:

A sterile solution that is manufactured in a class 7 clean room

A single use/disposable design

Clean/dirty break-away tab identifiers
Promotes effective drying of endoscope and endoscope channels
Ability to use during the channel drying process
AAMI: A tip protector that is made of material that can retain moisture (e.g., sponge) can create an environment favorable for microbial growth. Tip protectors should not cover the opening of the tip. Tip protectors are meant to be single-use unless otherwise specified in the manufacturer's written IFU.1
Flexibility
Available in small, large and extra large options.
Compatible with any flexible endoscope meeting distal tip diameter specifications
Designed for Efficiency
Designed to keep endoscope out of the repair shop and in the procedure room
Easy to Use
Separate colors allow for quick size identification
Ratchet system allows for easy placement and removal
Removable tabs indicate scope reprocessing status
Single use/disposable design eliminates the need to clean the PROTECH Flexible Endoscope Tip Protector
1 AAMI ST91 2021, page 68.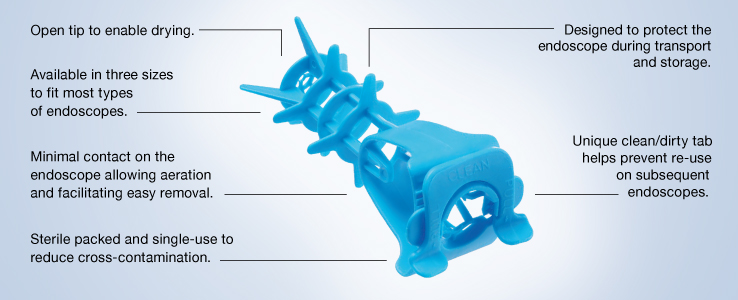 The PROTECH Flexible Endoscope Tip Protector is not intended for use during sterilization.
Product Support
| Product | Specs | Units Per Box | Product Code |
| --- | --- | --- | --- |
| PROTECH Small | Fits 2.7 - 8 mm diameter scopes | 100 units/box | PROTECHS |
| PROTECH Large | Fits 8.7 – 14 mm diameter scopes | 100 units/box | PROTECHL |
| PROTECH XL | Fits 10.7 – 17.9 mm diameter scopes* | 50 units/box | PROTECHXL |
*Refer to PROTECH tip protector list of compatible endoscopes for the specific PROTECH tip protector model and the endoscope it is compatible with.
Service and Repair:
Because the PROTECH Flexible Endoscope Tip Protector is designed to protect endoscopes from damage, users may realize a repair cost savings and experience increased endoscope availability.
Olympus® Service & Repair
Olympus offers a broad range of services to healthcare professionals and to our customers, including contact hour and peer-based training courses; information, training tools and videos on infection control and reprocessing; authorized repair services and support on Olympus equipment; and financing solutions to help your facility with acquisition of new capital equipment, accessories, and maintenance plans.
Need Help?
---