ULTRA High Definition IR Telescopes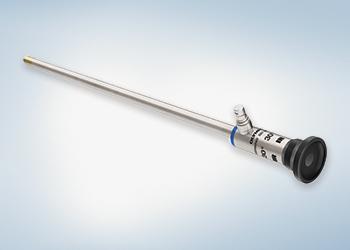 Rigid Telescope
ULTRA High Definition IR Telescopes
VISERA ELITE II offers infrared (IR) observation for surgeons to identify well-perfused tissue and the biliary tract. The modular design allows you to add a dedicated IR light source and IR UHD telescopes to the OTV-S200 and OTV-S300 platforms, utilizing the same CH-S200 series camera heads across surgical departments.
UHD IR telescopes are designed to deliver more light, color, and resolution to achieve optimal visualization modes not only in IR, but also in White Light, and NBI.
---
Key Benefits
Clinical
Helps visualize critical anatomy, promoting timely surgical decisions. IR applications include identification of biliary tract, assessment of tissue perfusion, and visualization of colon/sigmoid transanally. 
Optimizes high resolution imaging by decreasing chromatic abberation with the power of ED glass.
Enhances visibility for precise and safe surgery with ultra high definition imaging that is designed to meet high 4K standards, reproducing natural color and brightness. 
Provides broader operative landscape with at least 20% wider field of view than standard HD telescopes*
*Compared to 5.4mm endoscope with 70°field of view and 10mm endoscope with 75° field of view.
Economic
Reduces sterilization costs with autoclavability. 
Optimize use of VISERA ELITE II camera heads used across multiple departments with full compatibility.
A cost-effective option, so customers can add the IR functionality only to towers with specialties who utilize IR.
Usability
Achieve optimal visualizations for IR, white light, and NBI with just one type of scope.
Product Support
Ordering Information
| | | | | | |
| --- | --- | --- | --- | --- | --- |
| Order Number | Outer Diameter | Direction of View | Field of View | Working Length | Max. Insertion Portion Width |
| WAIR500A | 5.4 mm | 0° | 84° | 315.8 mm | 5.45 mm |
| WAIR530A | 5.4 mm | 30° | 84° | 317.0 mm | 5.45 mm |
| WAIR100A | 10 mm | 0° | 88° | 316.4 mm | 10.2 mm |
| WAIR130A | 10 mm | 30° | 88° | 318.6 mm | 10.2 mm |
Specifications
Operating Conditions
Ambient temperature: 10 to 35°C (50 to 95°F)
Relative humidity: 30 to 85%
Atmospheric pressure: 700 to 1060 hPa

Storage Conditions
Temperature: 10 to 40°C (50 to 104°F)
Relative humidity: 30 to 85%

Transport Conditions
Temperature: –40 to 70°C (–40 to 158°F)
Relative humidity: 10 to 95%

Olympus® Service & Repair
Olympus offers a broad range of services to healthcare professionals and to our customers, including contact hour and peer-based training courses; information, training tools and videos on infection control and reprocessing; authorized repair services and support on Olympus equipment; and financing solutions to help your facility with acquisition of new capital equipment, accessories, and maintenance plans.
Need Help?
Cleaning, Disinfection & Sterilization
The proper cleaning, disinfection, and sterilization of Olympus equipment is equally as important as their proper use.
Olympus Training & Proper Use
Olympus Continuum, is a comprehensive platform of education and training experiences led by healthcare experts from around the world. Learning opportunities include hands-on courses, online learning, lectures and workshops, peer-to-peer training, accredited continuing education, and on-demand learning.
For more information: Olympus Continuum Video
---