OTV-S300
3D Imaging System
3D Visualization Unit
OTV-S300
VISERA ELITE II Universal Surgical Platform
22 procedure Specific Camera & Video Endoscopes, 9+ Specialties = 1 Simple & Powerful Platform in 2D/3D vision. 
Streamline your surgical and endoscopic procedures across multiple specialties with this compact, cost effective, and versatile 3D imaging platform. Go beyond the limits of what traditional endoscopes can see.  Unlike an expensive 3D robotic approach, this simple platform restores 3D vision during laparoscopy so you can remain scrubbed in and closer to the patient. It helps your staff with a simplified O.R. workflow from equipment preparation, to maintenance, troubleshooting, staff training, and cable management.  
---
Key Benefits
Clinical
Identifies anatomy and tissue planes easier with 3D depth perception.
Proprietary 4-LED light (expanded to include violet) helps restore and reproduce natural color and brightness, promoting a more accurate diagnosis and precise surgical treatment.
Provides NBI

®

* to generate higher contrast of blood vessels on the mucosal surface with at least 25% higher light intensity than previous models.
* NBI is not intended to replace histopathological sampling as a means of diagnosis. For more details on NBI® technology, click here.
Economic
Backward compatible system reduces the need to purchase a full line of new scopes/ camera heads, maximizing the utilization of existing Olympus inventory.
Minimizes capital costs with an all-in-one design for both scope and platform compared to conventional 3D systems or robotic consoles.
Save up to $15,000* over the lifetime of the LED light source when compared to a Xenon light source.
Usability
Simplifies workflow in the operating room with an all-in-one compact system.
Provides easy access to user presets and switching between 2D/3D through the touch-screen panel.
Customize up to 20 user settings to accommodate multiple surgeon preferences.
*data on file.
---
Product Support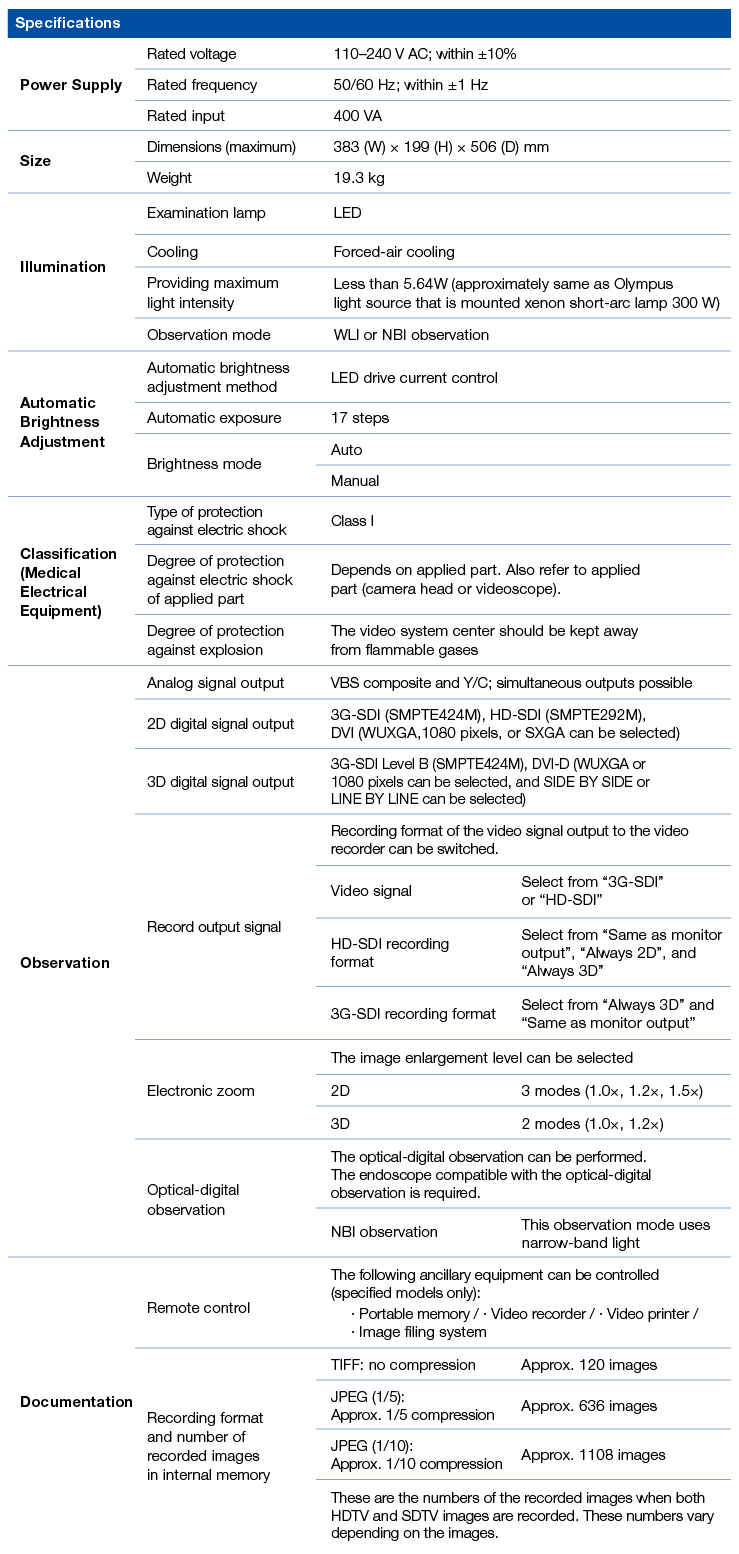 Olympus® Service & Repair
Olympus offers a broad range of services to healthcare professionals and to our customers, including contact hour and peer-based training courses; information, training tools and videos on infection control and reprocessing; authorized repair services and support on Olympus equipment; and financing solutions to help your facility with acquisition of new capital equipment, accessories, and maintenance plans.
Need Help?
Cleaning, Disinfection & Sterilization
The proper cleaning, disinfection, and sterilization of Olympus equipment is equally as important as their proper use.
Olympus Training & Proper Use
Olympus Continuum, is a comprehensive platform of education and training experiences led by healthcare experts from around the world. Learning opportunities include hands-on courses, online learning, lectures and workshops, peer-to-peer training, accredited continuing education, and on-demand learning.
For more information: Olympus Continuum Video