ENDOEYE 3D Rigid VIDEOSCOPE 10mm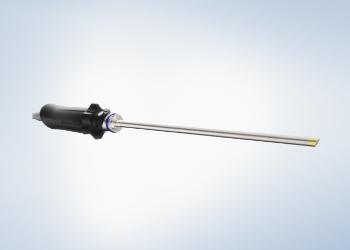 3D Imaging System
Rigid Laparoscopes
ENDOEYE 3D Rigid VIDEOSCOPE 10mm
Olympus offers the world's first 3D rigid laparoscopes that are compact, autoclavable and easy plug and play scopes. On top of all the features ENDOEYE RIGD HD provides, the new 3D Rigid ENDOEYE 30° scope can maintain a visual horizon throughout scope rotation so you can have a continuous critical view in 3D.  
The new all-in-one designed 3D ENDOEYEs along with a compact 3D platform will help your staff with a simplified O.R. workflow from equipment preparation, to maintenance, troubleshooting, staff training, and cable management.
---
Key Benefits
Clinical
Provides greater depth perception and spatial view of anatomy that is not possible with traditional 2D systems.
Enables a continuous critical view in 3D during scope rotation. The scope maintains a visual horizon consistently throughout rotation.
Provides NBI

®

* to generate higher contrast of blood vessels on the mucosal surface with at least 25% higher light intensity than previous models.
* NBI is not intended to replace histopathological sampling as a means of diagnosis. For more details on NBI® technology, click here.
Economic
All-in-one videoscope provides 3D visualization without the need for a separate dedicated surgical team.
Autoclavability helps reduce sterilization costs.
Usability
Simplifies equipment setup and troubleshooting with an easy all-in-one plug & play scope.
Increases operational workflow efficiencies with three programmable buttons for frequently used functions.
Provides access to 3D visualization on a familiar laparoscopic platform.
Product Support
Cable Size: 6.8mm x 3.04m 
Weight: 295 g
Olympus® Service & Repair
Olympus offers a broad range of services to healthcare professionals and to our customers, including contact hour and peer-based training courses; information, training tools and videos on infection control and reprocessing; authorized repair services and support on Olympus equipment; and financing solutions to help your facility with acquisition of new capital equipment, accessories, and maintenance plans.
Need Help?
Cleaning, Disinfection & Sterilization
The proper cleaning, disinfection, and sterilization of Olympus equipment is equally as important as their proper use.
Olympus Training & Proper Use
Olympus Continuum, is a comprehensive platform of education and training experiences led by healthcare experts from around the world. Learning opportunities include hands-on courses, online learning, lectures and workshops, peer-to-peer training, accredited continuing education, and on-demand learning.
For more information: Olympus Continuum Video
---