Infrared Xenon Light Source CLV-S200-IR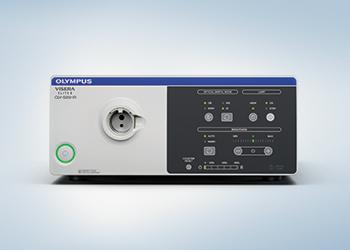 Xenon Light Source
Infrared Xenon Light Source CLV-S200-IR
VISERA ELITE II offers Infrared (IR) observation, allowing surgeons to identify well-perfused tissue and the biliary tract that is difficult to see under white light or with the naked eye. The modular design allows the customer to simply add a dedicated IR light source* and IR UHD telescopes to the OTV-S200 or OTV-S300 platform, utilizing the same CH-S200 series camera heads used across surgical departments. This provides a cost-effective option, so customers can add the IR functionality only to towers used
by specialties who utilize IR (vs. competitive options that may include the cost of IR in all towers by default).
*IR light source is sold with Olympus ICG box (PICG0025OLY) as a combination product.
---
Key Benefits
Clinical
Helps visualize critical anatomy (e.g. biliary tract, colon perfusion), promoting timely decisions.
Overlay IR image provides a more complete view in the surgical field
Economic
Saves capital investment cost due to a compatibility with the CH-S200 camera heads used across other surgical departments (e.g. Uro, ENT, Ortho)
Usability
Allows for easy one-handed operation for IR, White Light, and NBI switch-
No need for separate light guide cable for IR or White Light observations
Product Support
Specifications
Power Input
Rated voltage: 100–240 V AC; within ±10%
Rated frequency: 50/60 Hz; within ±1 Hz
Rated input: 500 VA

Size
Dimensions (maximum): 391 (W) × 162 (H) × 521 (D) mm
Weight: 15.5 kg

Illumination
Examination lamp: Xenon short-arc lamp (ozone-free) 300 W
Average lamp life: Approximately 500 hours of continuous use (with intermittent use, the lamp life may vary slightly)
Brightness adjustment: Light-path diaphragm control
Cooling: Forced-air cooling
Intensity mode: Normal or high intensity
Optical-digital observation: NBI observation and IR observation
Emergency lamp: Halogen lamp (within mirror) 12 V 35 W
Average emergency lamp life: Approximately 500 hours

Automatic Brightness Adjustment
Automatic brightness adjustment method: Servo-diaphragm method
Automatic exposure: 17 steps

Indicators on Front Panel
Emergency lamp: Indicates absence of emergency lamp, disconnection, and use of emergency lamp
NBI: When the NBI observation mode is enabled, the "NBI" indicator lights up
IR: When the IR observation mode is enabled, the observation mode indicator lights up

Setting Memory
Settings (except the observation mode) are stored even when the light source is OFF

Classification (Electromedical Equipment)
Type of protection against electric shock: Class I
Degree of protection against electric shock of applied part: Depends on applied part. See also applied part (camera head or videoscope)
Degree of protection against explosion: The light source should be kept away from flammable gases.

Olympus® Service & Repair
Olympus offers a broad range of services to healthcare professionals and to our customers, including contact hour and peer-based training courses; information, training tools and videos on infection control and reprocessing; authorized repair services and support on Olympus equipment; and financing solutions to help your facility with acquisition of new capital equipment, accessories, and maintenance plans.
Need Help?
Cleaning, Disinfection & Sterilization
The proper cleaning, disinfection, and sterilization of Olympus equipment is equally as important as their proper use.
Olympus Training & Proper Use
Olympus Continuum, is a comprehensive platform of education and training experiences led by healthcare experts from around the world. Learning opportunities include hands-on courses, online learning, lectures and workshops, peer-to-peer training, accredited continuing education, and on-demand learning.
For more information: Olympus Continuum Video
---