NeedleMaster Injection Needles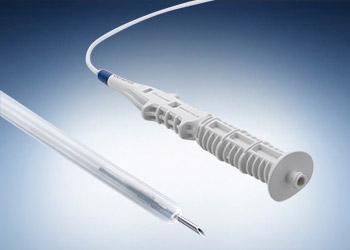 Needles
NeedleMaster Injection Needles
Olympus NeedleMaster offers a user-friendly, reliable injection needle for advanced procedures. Improved processing technology allows for a sharper needle tip and an expanded inner lumen for better puncturability and injectability than its predecessor needles.
---
Key Benefits
Excellent puncture performance: Sharper needle tip reduces the puncture force allowing for controlled insertion into the mucosa.

Improved injectability: Expanded inner lumen allows for high-viscosity liquid to pass through smoothly with reduced pushing force.

Uncompromised flexibility: Durable sheath material allows for reliable needle actuation in tortuous scope positions.

User-friendly handle: Ergonomic handle can be easily locked in one step and is textured to allow for a firm grip.

Unique line of sizes: Wide array of models in various needle and sheath lengths and diameters for a variety of applications.

 
Product Support
Olympus NeedleMaster Needles include a wide array of models in various needle and sheath lengths and diameters for a variety of applications.
For detailed specifications please contact customer service for assistance.
Olympus Service & Repair
Olympus offers a broad range of services to healthcare professionals and to our customers, including contact hour and peer-based training courses; information, training tools and videos on infection control and reprocessing; authorized repair services and support on Olympus equipment; and financing solutions to help your facility with acquisition of new capital equipment, accessories, and maintenance plans.
Need Help?
Cleaning, Disinfection & Sterilization
The proper cleaning, disinfection, and sterilization of Olympus equipment is equally as important as their proper use.
Olympus Training & Proper Use
Olympus Continuum, is a comprehensive platform of education and training experiences led by healthcare experts from around the world. Learning opportunities include hands-on courses, online learning, lectures and workshops, peer-to-peer training, accredited continuing education, and on-demand learning.
For more information: Olympus Continuum Video
---