Intra-abdominal Insufflation Unit (UHI-4)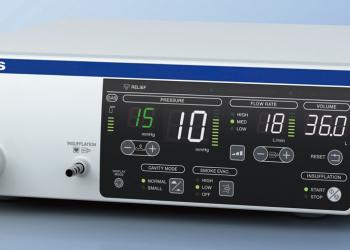 Insufflation
Intra-abdominal Insufflation Unit (UHI-4)
The Olympus UHI-4 Intra-abdominal Insufflation Unit is designed for insufflation of the abdominal cavity for diagnostic and operative laparoscopy. It works in conjunction with the THUNDERBEAT platform to eliminate smoke and mist. Its adjustable smoke evacuation features high, low, and off settings as well as a small cavity mode for endoscopic vessel harvesting procedures. Insufflation quickly responds to gas leaks, allowing the surgeon to remain focused on the operative site.
---
Key Benefits
High Speed Insufflation: The UHI-4 offers an increased maximum flow rate of 45L/min.
Automatic and adjustable setting: The UHI-4 allows automatic smoke evacuation and high-speed insufflation that can be adjusted to high, low, or off settings.
Small cavity mode: The UHI-4 features a small cavity mode for endoscopic vessel harvesting.
New Cylinder Hose with Switch-over Valve: With the CO2 switch-over valve, surgeons can freely switch CO2 tanks wihtout interrupting long procedures.
---
Product Support
Dimensions: (W x H x D) 370 x 120 x 300 mm
Weight: 9.3 Kg
Abdominal Pressure Control: 3 to 25mmHg
Flow Rate Settings: 01 to 45L/min
Cavity Mode: Normal/Small
Gas Supply From Wall Pipeline: Connectable
Olympus® Service & Repair
Olympus offers a broad range of services to healthcare professionals and to our customers, including contact hour and peer-based training courses; information, training tools and videos on infection control and reprocessing; authorized repair services and support on Olympus equipment; and financing solutions to help your facility with acquisition of new capital equipment, accessories, and maintenance plans.
Need Help?
---