ENDOEYE HD II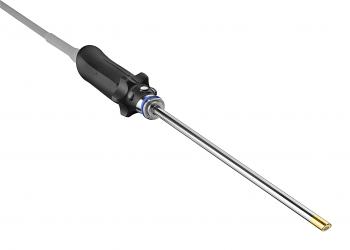 Laparoscopes
Video Laparoscopes
ENDOEYE HD II
The ENDOEYE HD II videoscope delivers the innovative combination of distal-chip and high-definition technology to provide surgeons with the most advanced tool available today for laparoscopic imaging. The ENDOEYE HD II also brings the benefits of reliability, consistency, and efficiency through its unique all-in-one, focus-free design and light ergonomic construction.
---
Key Benefits
Exceptional Imaging: HDTV delivers exceptional image clarity while Narrow Band Imaging (NBI) enhances visualization of the capillary network and mucosal morphology.
Focus-free design: An advanced optical design provides greater depth of field, eliminating the need for manual focusing and other scope features include a digital zoom and a fog-free (heating) function.
Fog-free function: The ENDOEYE HD II has a Fog-Free Function which reduces the amount of time for the lens to defog from minutes to seconds. By warming the distal tip of the laparoscope before or during surgery, fogging is reduced, enabling a clear field of view.
Autoclavable, all-in-one design: The ENDOEYE HD II is fully autoclavable, and an all-in-one design integrates the light cable and camera system into the laparoscope for improved ergonomics and easier setup.
Product Support
Olympus® Service & Repair
Olympus offers a broad range of services to healthcare professionals and to our customers, including contact hour and peer-based training courses; information, training tools and videos on infection control and reprocessing; authorized repair services and support on Olympus equipment; and financing solutions to help your facility with acquisition of new capital equipment, accessories, and maintenance plans.
Need Help?
Cleaning, Disinfection & Sterilization
The proper cleaning, disinfection, and sterilization of Olympus equipment is equally as important as their proper use.
Olympus Training & Proper Use
Olympus Continuum, is a comprehensive platform of education and training experiences led by healthcare experts from around the world. Learning opportunities include hands-on courses, online learning, lectures and workshops, peer-to-peer training, accredited continuing education, and on-demand learning.
For more information: Olympus Continuum Video