THUNDERBEAT Type S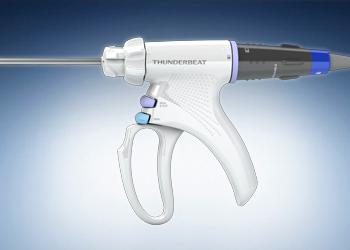 Advanced Energy
THUNDERBEAT Type S
The THUNDERBEAT portfolio combines high performance and efficiency with 7mm vessel sealing, significantly faster tissue dissection and the versatility to replace multiple instruments with a single handpiece. With this remarkable portfolio, you've got the power to realize increased efficiencies through reduced instrument usage & exchange, uninterrupted operative flow and reduced OR time. THUNDERBEAT is the singular choice of energy for advanced 7mm vessel sealing combined with precise tissue management. 
---
Key Benefits
Reliable 7mm Sealing: THUNDERBEAT Type S enables reliable sealing of vessels ≤ 7 mm through hybrid energy combined with more consistent pressure and energy distribution provided by the center-pivot wiper jaw. In preclinical testing THUNDERBEAT Type S had the highest average burst pressure.* Efficiency through up to 79% faster cutting speeds which can contribute to OR time savingsIntelligent Energy Delivery, Improved temperature management and efficiencies with the combination of Intelligent Tissue Monitoring, the only auto stop system for ultrasonic devices, and a patented PEEK coating on probe to confine energy between the jawsgrasping instrument, fulfilling a variety of surgical needs with a single instrument for precise tissue management including fine dissection, blunt dissection, secure tip grasping and spot coagulation
Versatility to Achieve More: A single instrument that fulfils a variety of needs contributing to less instrument exchange & usage potentially reducing OR time.
---