InstaClear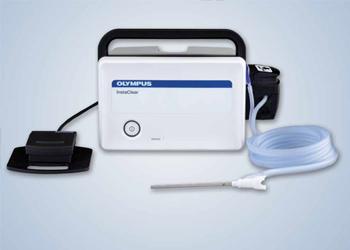 Lens Cleaner System
InstaClear
The InstaClear lens cleaner system cleans and clears the lens of a rigid endoscope quickly during surgery without having to remove it from the nasal cavity. The system includes a console that can be mounted on a standard IV pole for easy storage and transportation in the OR, a footpedal for hands-free activation, a tubeset for irrigation to clean and suction to clear the lens, and a series of easy to mount sheaths to accommodate Olympus and Storz 4mm rigid endoscopes.
---
Key Benefits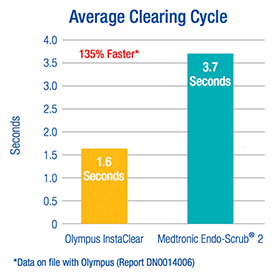 Average clearing cycle is 135% faster than the Medtronic Endo-Scrub® 2
Designed to reduce the duration of the procedure
No need to remove the scope from the nasal cavity
Uses suction to instantly remove fluid from the lens
No bubbles or meniscus remaining on the lens
No clipping of the image
Provides longer scope working length than the Medtronic Endo-Scrub® 2
Product Support
Olympus® Service & Repair
Olympus offers a broad range of services to healthcare professionals and to our customers, including contact hour and peer-based training courses; information, training tools and videos on infection control and reprocessing; authorized repair services and support on Olympus equipment; and financing solutions to help your facility with acquisition of new capital equipment, accessories, and maintenance plans.
Need Help?
Cleaning, Disinfection & Sterilization
The proper cleaning, disinfection, and sterilization of Olympus equipment is equally as important as their proper use.
Olympus Training & Proper Use
Olympus Continuum, is a comprehensive platform of education and training experiences led by healthcare experts from around the world. Learning opportunities include hands-on courses, online learning, lectures and workshops, peer-to-peer training, accredited continuing education, and on-demand learning.
For more information: Olympus Continuum Video
---